Grand Theft Auto V Launch TimeLine
Rockstar Games has maintain a dignified silence on topic of new details about GTA V but fans are unhappy with this because things are still the same as it was in the past (only few GTA V details in two to three months time period).
Fans are screaming for more GTA V news (another trailer or actual gameplay demo) but Rockstar Games are keeping their cards close to their chest.
So until a solution to this situation is found, we decided to take a look back GTA V TimeLine (on which day it all started and where we are today).
This timeline is more of a chance for GTA series fans to re-live all GTA V moments so far. Enjoy it below.
October 25, 2011 (Tuesday):
Rockstar Games shocked the entire world with a surprise and teasing announcement on their official Twitter account. The firm tweeted the hash tag "#GTAV". It was linked to their official website which featured GTA V logo and release date for first GTA V trailer.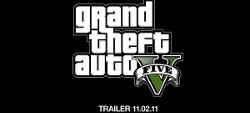 November 2, 2011 (Wednesday):
On this day we saw the launch of first official GTA V trailer. The footage gave us first glimpse of Los Santos city, countryside and numerous characters who will play the important roles in the game.
November 3, 2011 (Thursday):
Nothing big was revealed on the day following the launch of first GTA V trailer. Rockstar Games launch GTA V's official website splash page. They also released a press-release: "We are very proud to officially announce that Grand Theft Auto V is in full development.
Developed by series creator Rockstar North, Grand Theft Auto V heads to the city of Los Santos and surrounding hills, countryside and beaches in the largest and most ambitious game Rockstar has yet created.
A bold new direction in open-world freedom, storytelling, mission-based gameplay and online multiplayer, Grand Theft Auto V focuses on the pursuit of the almighty dollar in a re-imagined, present day Southern California."
July 12, 2012 (Thursday):
Rockstar Games released first official in-game GTA V screenshots via their Newswire.
August 20, 2012 (Monday):
August 2012 month was the best for GTA series fans. Rockstar released three more GTA V screenshots showing numerous means of transport that players will be using in the game. The developer also promised to unveil more in later week.
August 22, 2012 (Wednesday):
Keeping their promise, Rockstar Games revealed another three screenshots under title "Leisure".
August 24, 2012 (Friday):
Rockstar released four new screenshots under title "Business".
October 24, 2012 (Wednesday):
The next GTA V details took exactly two months to arrive. Rockstar Games released first official GTA V artwork titled as "PEST Control".
October 30, 2012 (Tuesday):
On this day, Rockstar Games gaves details regarding GTA V release window. They announced that GTA V will launch in Spring 2013 for PS3 and Xbox 360. A bikini-girl artwork was also leaked on internet.
November 5, 2012 (Monday):
Rockstar Games unveiled the release date of GTA V Trailer #2. In addition to this, the firm also confirmed that GTA V is available for pre-order. The 'Beach Weather' artwork was officially released.
November 8, 2012 (Thursday):
The first every preview of GTA V was released (GameInformer). The preview featured tons of details about GTA V (story, playable character, map and more). In addition to this gorgeous looking new screenshots was also released.
November 14, 2012 (Wednesday):
GTA V Trailer #2 was released. In this one fans got to see more action.
November 30, 2012 (Friday):
A new GTA V artwork of Trevor was released for GTA series fans to download.
December 24, 2012 (Monday):
As a Christmas gift for franchise fans, Rockstar Games on their official website posted five brand new GTA V screenshots.
January 4, 2013 (Friday)
Rockstar Games released four more GTA V official artworks for download. Two promotional poster featuring all three lead character Franklin, Trevor and Michael was also released.
January 31, 2013 (Thursday):
The universe was shocked on this day as Rockstar Games announced GTA V release delayed from Spring 2013 to September 17, 2013. Rockstar Games stated that development team neede more time to polish the game.
March 27, 2013 (Wednesday):
Rockstar Games two months silence on GTA V details and released ten never seen before in-game GTA V screenshots (from PS3 and Xbox 360 version).
April 16, 2013 (Tuesday):
Rockstar Games released two brand new GTA V artworks titled as "Cash and Carry".