Top 8 Doom 2016 Easter Eggs You must Not Miss
When you need to take a break from shredding through the demons with the Shotgun, ID Software had a bunch of secrets for you to explore in every mission of Doom. The Easter Eggs in Doom 2016 are the hidden content which player should discover which might be spoilers or reference to past events or different Bethesda products. Since there are dozens of Easter Eggs for you to explore we have sorted out the 8 Best Easter Eggs which you must not miss and here they are.
Top 8 Doom 2016 Easter Eggs
Skyrim Meme Easter Egg
While you explore the Kadingir Sanctum, make sure you visit the crazy looking cave with a fire in the mouth. You will find this Skyrim reference Easter Egg with the Arrow in the Knee.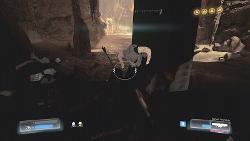 Quake and Original Doom Easter Egg
This Easter Egg is a reference to the Quake Game Logo and the Original Doom Poster found in the Advanced Research Complex. Get inside the Women's restroom then climb up the vent to drop down on the other end and find this on the Wall.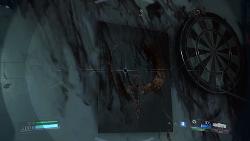 Happy Birthday Easter Egg
This Easter Egg is inside a Secret Room which you need to enter in Titan's Realm. Once you jump up from the yellow Jump pad towards the right, head left and you will see this gap just like the picture shown below, enter the hole and you are inside the secret Birthday Bash.
Mini Game - Punch Turkey Easter Egg 
This was the return of the Super Turbo Turkey Puncher 3 you can find in Doom inside the Advanced Research Complex. This Machine is hidden behind the box on the map.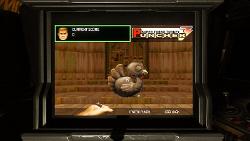 Demon Destruction Easter Egg
Another Minigame which is found in Lazarus Lag. You need to head inside the office area and find this computer on the left-hand side to being the game.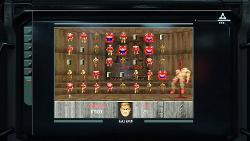 Terminator 2 Easter Egg
This Terminator reference can be found in the Foundry level where you must sacrifice yourself inside the Hot Lava you will the Thumbs up just before the character dies.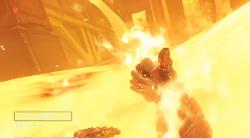 Commander Keen Easter Egg
Commander Keen's Helmet is back in Doom and you can find it inside the cave in level 6. Commander Keen had an episodic video game developed by id Software in the early 1990s.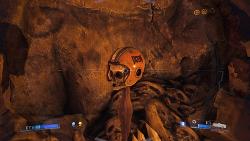 Fallout Easter Egg
The Last in our list is the very First Easter Egg you'll encounter in the very first mission where you make your way down to the corridor hallway. Take out the demons and on your let, you will come near this door which says area locked down.