E3 2016: 6 PS4 Related Announcements Expected From Sony: Sucker Punch's Spider-Man, God of War IV and more
E3 2016 is just around the corner and, although many are renouncing to their opportunities to showcase upcoming games at classic media briefing in Los Angeles, Sony and Microsoft will be there to discuss what's next for PlayStation and Xbox. At this point we don't even know if there will be something beyond PS4 and Xbox One to be showcased right during the kermesse, since rumors about PS4.5 or 4K and Xbox One.5 or NeXt have been pretty insistent lately. Anyway, based on information and speculations coming everyday from the Internet we're able today to make something more than a wishlist involving announcements we think platform holders will be doing in June. Take it at our idea of what's going to happen at E3 this year starting from what we already know by rumors or whatever – we can't predict what's happening among the stuff we have never heard about, of course.
Let's start with Sony, which seems to be the one that is more interested and ahead in the development process, when it comes to hardware upgrade, at least.
1 – PS4K or Neo
According to rumors, it is likely for Sony to go out and announce a brand new PlayStation 4 model at E3 2016. While insider Shinobi602 believes it won't be introduced to the public before late October's Paris Games Week, we still think that, if such announcement has to be ever done, it is going to have a central role in Sony's E3 2016 media briefing. Not only because of the event itself, which still is the most popular and visited gaming exhibition in the world, but also because it comes at the right time for the Japanese platform holder to have enough time to launch PS4.5 in (at late) October, together or slightly earlier than PlayStation VR.
2 – Crash Bandicoot
Sony has seen nostalgia works pretty well during E3 2015, where they introduced for the very first time long time fan requested Final Fantasy VII Remake (not releasing this year) and Shenmue III. This, together with rumors going wild, Sony exec wearing bizarre t-shirts and Naughty Dog working on elaborate easter eggs, lets us think it is about time for a Crash Bandicoot comeback. While rights are still in the hands of Activision, it looks likely that the early days PlayStation mascotte could return through a partnership or IP acquisition, which would mean Naughty Dog or a trusted first party developer getting back to the series and lead to the level of quality it deserves.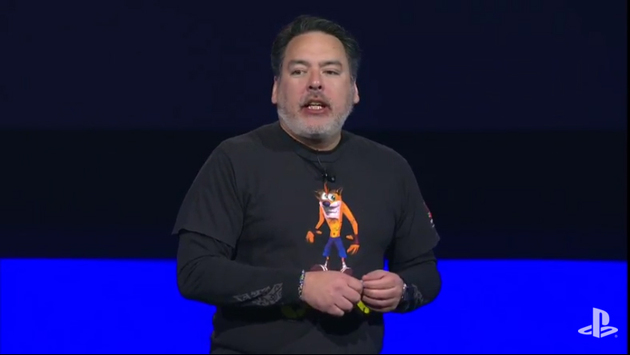 3 – Sucker Punch's Spider-Man
While we know most recent Spider-Man games have not been exciting stuff, this time around things look pretty different, since we have a Sony first party developer possibly involved in the project. According to rumors that developer would be Sucker Punch. The inFamous' software house has been working behind closed doors for a while and now it looks like the time has come for them to go out and show us what they're doing so secretly. Spider-Man is a great character in a great world, so it sure would be nice to see the developer of the original Sly Cooper series make it seriously.
4 – The Last Guardian
E3 2015 was also the place where we had a very late look at The Last Guardian, long awaited, former PlayStation 3 IP created by Ico and Shadow of the Colossus' Fumito Ueda. Luckily enough, we'll have another chance to see it in action with few more details regarding its gameplay and characters. Moreover and more importantly, we'll finally learn its release date. Together with Horizon: Zero Dawn (it is going to be dated as well), the game has been recently confirmed to be launching in 2016, so we should really be very close to have a final date set. E3 2016 Sony's media briefing will provide us with at least a strict release window.
5 - God of War IV
Of course we're going to finally see a brand new God of War game being announced at E3 2016. PlayStation 4 has yet to receive its portion of Ancient Greece's gods v humans fights, and after three years of current-gen it looks like the time has finally come. Santa Monica Studio will still be handling the project, after they were forced to renounce at a new sci-fi IP a few years ago, and according to rumors there could be a brand new protagonist (be ready to say farewell to Kratos, in case) together with a never seen before setting (Nordic mythology could be on its way).
6 – Third party announcements
As usual, Sony will host a variety of third party developers and publishers willing to showcase their games at a very much followed and beloved gaming event such as PlayStation E3 keynote. Activision will be there playing Call of Duty: Infinite Warfare (and possibly Modern Warfare Remastered) live and Bungie will reveal the new Destiny paid DLC coming later this year. Warner Bros. is also rumored to be working on something new and an announcement could be coming at Sony's event – based on the latest revelations, it could be Shadow of Mordor 2. From Software's Demon's Souls remaster could also be in the making at an expert Chinese developer. One more first party studio could be finally making an appearance with a brand new IP, and that first party studio is Sony Bend – the creators of the Syphon Filter series.
If you enjoyed these predictions just leave a positive comment below, otherwise add your own opinion in the dedicated section. PlayStation E3 2016 media briefing is starting on Monday, June 13 at 10am PDT. We're sure you won't want to miss it.