Bethesda Creation Club Is Not Stealing Away Money From Mods Again, Hopefully
When you think of things that truly make gaming on PC different from consoles, mods have sure enough a huge role – it's basically the first thing you come up with when you discuss with your friends when they say Xbox or PlayStation are better than the "master race". You can also tell them it's all about the graphics, but that honestly doesn't live up that much, mainly because you need to spend a fair amount of money on a hardware which is substantially more powerful than Xbox One X or PS4 Pro, without the relaxing console experience (buy the box, set it up in five minutes or so, and you're ready to play… if you don't take into account several gigabyte updates, but that's another story). Mods, we were saying, are the thing that more than any others differentiate PC gaming from any other platform, even though some efforts have been done in the recent past in order to bring that mentality and focus on consoles as well – at least, Bethesda did, with Fallout 4 and Skyrim, meeting certain difficulties, especially from a technical and licensing perspective, on PlayStation 4.
At any rate, you might remember one of the announcements coming from the developer at E3 2017 was about a Creation Club. Based on the previous experiences, basically a disaster both for Valve, who was hosting a similar initiative on Steam for Skyrim, and for Bethesda as well, our minds instantly went to paid mods. Why would they be trying again, if this experience – as said – turned a true disaster in terms of marketing and community involvement, an effort to bridle the talent of people expanding the games they love on PC just for passion and make money taking advantage of their supposed ingenuity?
Well, things are pretty different this time around. Here's what Bethesda has to say about the Creation Club and what it actually is: "Creation Club is a collection of all-new content for both Fallout 4 and Skyrim. It features new items, abilities, and gameplay created by Bethesda Games Studios and outside development partners including the best community creators. Creation Club content is fully curated and compatible with the main game and official add-ons."
So, Is Bethesda's Creation Club paid mods?
"No. Mods will remain a free and open system where anyone can create and share what they'd like. Also, we won't allow any existing mods to be retrofitted into Creation Club, it must all be original content. Most of the Creation Club content is created internally, some with external partners who have worked on our games, and some by external Creators. All the content is approved, curated, and taken through the full internal dev cycle; including localization, polishing, and testing. This also guarantees that all content works together. We've looked at many ways to do "paid mods", and the problems outweigh the benefits. We've encountered many of those issues before. But, there's a constant demand from our fans to add more official high quality content to our games, and while we are able to create a lot of it, we think many in our community have the talent to work directly with us and create some amazing new things."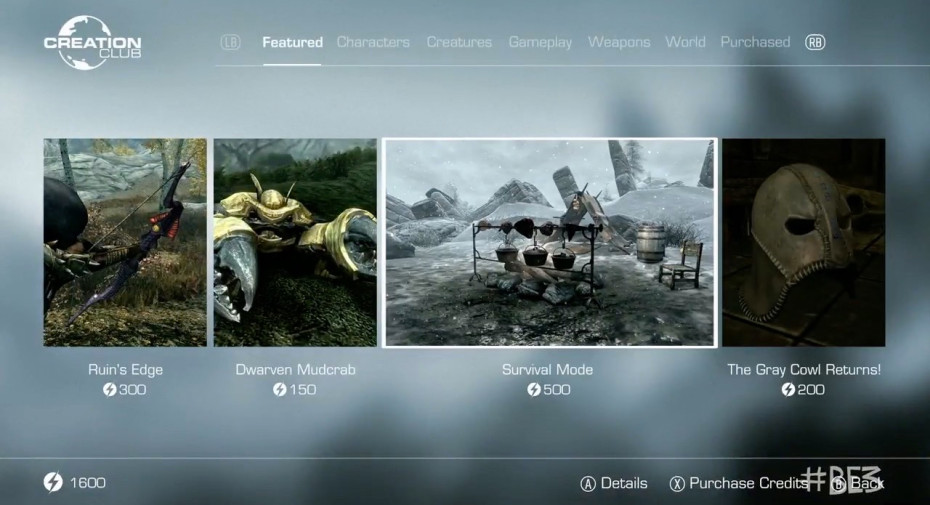 So, two things are very important to remark here, not-so- great communication from Bethesda at E3 aside. Creators are not necessarily community members. They're first and foremost Bethesda Games Studios itself and development partners, like other studios who have worked in the past on other titles of The Elder Scrolls or Fallout series (maybe Obsidian Entertainment? Yeah, that'd be great, I know). Second, in case the developers are part of the community and the fan scene, those guys get paid. Which is not making mods anymore, it's actually developing things that get paid – as they're capable of making money themselves, because users will pay for having them on their consoles/PC versions of Skyrim and Fallout 4 – and pass through several certification process steps, like Alpha, Beta and Release. "Creators are required to submit documentation pitches which go through an approval process. All content must be new and original" is an important piece of the puzzle, as offered in a Q&A on Bethesda website. "Bethesda Game Studios developers work with Creators to iterate and polish their work along with full QA cycles. The content is fully localized, as well. This ensures compatibility with the original game, official add-ons and achievements."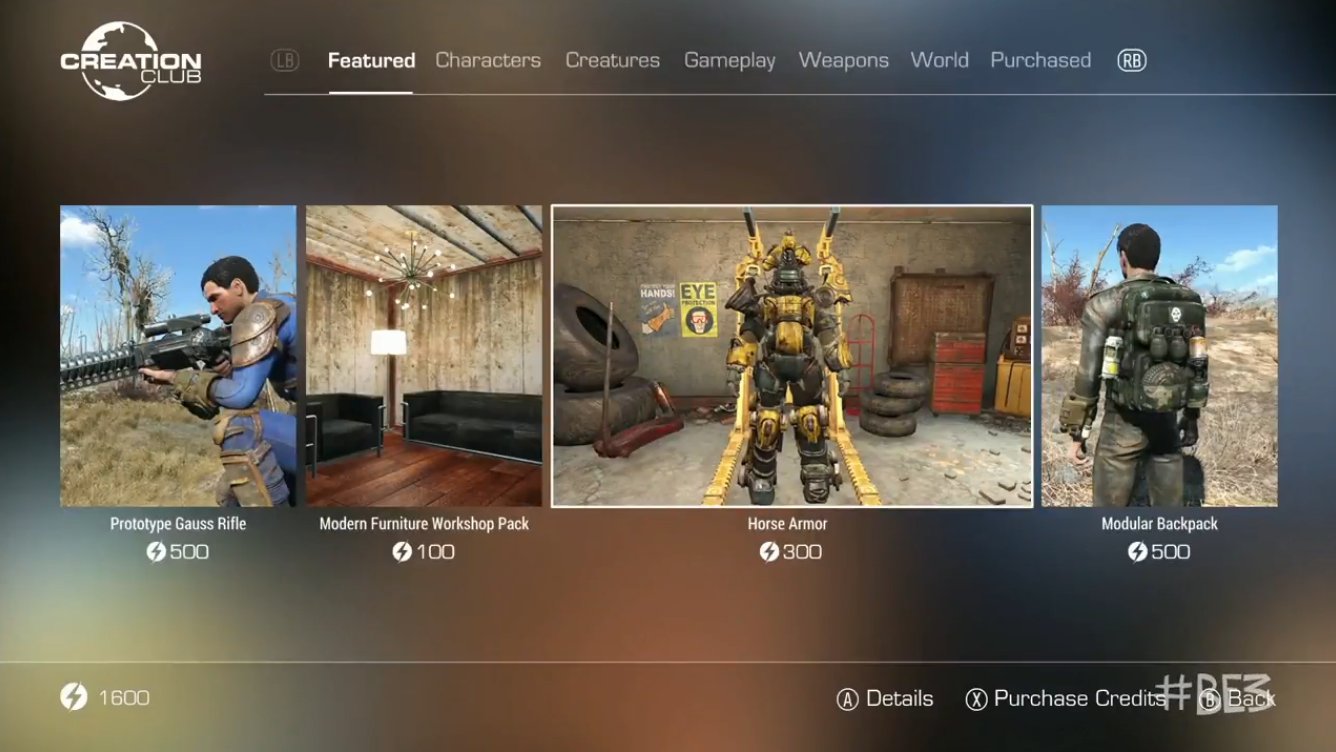 Is this thing any good? We'll see when it kicks off later in the Summer. But what is sure is that Creation Club is not mods anymore. Mods will keep existing and luckily enough those who want to stick making mods, not paid stuff, because they think what Bethesda is doing is not good, well, they'll be granted their right to do it. So, it's a totally different level and we'll need to see if this level can be assured thanks to Bethesda's effort – all the content will be required to look and feel exactly like they're official pieces of additional content, then make a clear difference from what a mod currently is (and also not be a simple tool to create in-game things, like the second Season Pass content from Fallout 4). If this really happens, we'll see a completely new wave of content coming not only to Skyrim and Fallout 4, but also to the future Bethesda games, potentially changing the entire expansion packs landscape again, just like it happened last gen with DLCs. It'll be interesting to really check it this evolution can go on or it's yet another boutade involving Bethesda and mods.