7 Cuphead Facts That Will Blow Your Mind
The game was first introduced in the year 2014 at E3. From that time till 2017 the game was in production due to the hand-drawn, each frame was manually drawn and then animated, that is the reason it looks so similar to 1930 cartoon style. The development studio started with just two guys current Art Director Chad Moldenhauer and Jared Moldenhauer Lead Game Design. You will see a lot of references like the Mermaid boss Cala Maria who appears in Word 3, is inspired from Betty Boop. Cuphead is an interesting game with hard as hell challenges, a major part of this game is only boss fight and a few run and gun levels. If you want to know more you can read our facts below.
Cuphead Facts
1 – Don't Deal With Devil Dark Theme
Instead of following the pattern of classic save the world or save the princess theme, Cuphead features a dark Don't Deal With Devil Theme, where the protagonist lands into trouble by making a deal with Devil after losing a gamble. This makes the game more comparable to 1930's cartoon.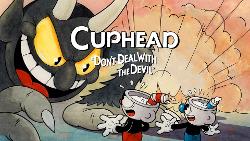 2 – Games That Inspire Cuphead
Cuphead features an old school style taking us back to the 1930 animation style inspired by some games a few of them are listed below, as shared by Studio MDHR.
Gunstar Heroes (Seven Force!)
Contra III
Contra Hard Corps
Super Mario World
The Thunderforce series
Street Fighter III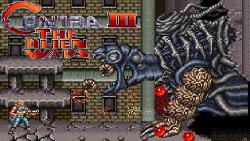 3 – Inspiration Behind The Main Character "Cuphead"
Cuphead character is inspired from World War 2 Japanese Propaganda Cartoon – "Evil Mickey attacks Japan – A 1936 Japanese Animation". In the animation, there is a giant cup man who transforms into a tank. Cuphead Co-Creator and Art Director Chad Moldenhauer went through at least 150 different character design before landing on the final look of Cuphead.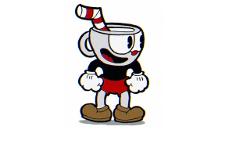 4 – Purely Hand Drawn
Everything Animation In Cuphead Is Drawn On Pencil and Paper. Yes, the game completely hand-drawn by the developers to mimic the 1930 animation style. Dedicates team of artist group in Studio MDHR MDHR was assigned to draw various animation like Character Movement, Boss Movements, Attack Style, Intro, etc. and then everything is compiled to bring it alive.
5 – Cuphead Is 75% Boss Battle and 25% Platformer
With over 17 Bosses in the game segregated by three Worlds, you will get a few platformer levels in between. Cuphead's unique gameplay style adds a lot of challenge and entertainment side by side. Every boss is different and owns a unique style of attack, the upgrades give player chance to use extra power by paying through coins. The game also features a Co-op mode that is not completely active, possibly there are chances in future you might get it to play with your friends online.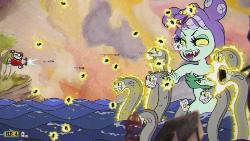 6 – Hard As Hell
Challenges are designed in a way that you cannot pass them without dying or trying again and again. Depending on the boss you are competing with you have to get precisely accurate with your moves.
7 – Nostalgic Music
Cuphead features 2 and half hours of original old school style music recorded at the game studio, composed by a Toronto based Symphony and Jazz musician.