For Honor Comeback Might Be Just Behind The Corner, Ubisoft Finally Listening
Despite having traded it in to have a discount on Nintendo Switch's Arms, there's still something that fascinates me about For Honor. The always online, multiplayer fighting game by Ubisoft has faced very, very bad days in its earliest phase, but might be approaching a quick comeback as it gets closer and closer to more content to fuel its long term ambition and, finally, dedicated servers to support it.
New Wave Of Content
Just a few days ago, Ubisoft announced a new wave of content and polish that will lead the game in Seasons 3 and 4 among August and February 2018. It's a similar operation to the one that made Rainbow Six Siege become the success it is today, so I have a good feeling about it all – at the point that I'm almost convinced to buy a new copy of the game (also considering how much cheap it is now) and return to the fight with a huge amount of hope.
But let's be clear about what's happening now. A good game doesn't deserve all this – something like R6 Siege's "Operation Health", which isn't called like this with For Honor but is very close to being like that, is only required to titles that ship in a very bad shape and need to almost completely be reworked. The fact itself Ubisoft feels the urgency to call these patches something like "Operation Health" or to offer visual art/tables to make what's coming clearer to users… well, I can appreciate that but is really a quite disturbing thing to look at, as much of the stuff in there should almost be a given for players around.
In-game Economy – How It Is A Problem
For Honor is flawed not only by connectivity issues, its internal economy is totally awful and the developers will be obliged to rethink about it in a way that game provides users with the right amount of reward for them to spend all that time in it. So less time needed to get meaningful rewards, and more meaningful rewards. On top of that, once they do it (and this is probably the phase that is starting in August) – only then – they can keep adding content like map and heroes. For Honor needs a brand new foundation upon which they can extend all the content available.
What Exactly Community Wants
Again, I'm quite confident that this will give the game a new beginning, as also more cooperative modes (like 4v4) are going to be introduced and this will expand the sense of community which is clearly missing now. For Honor has been launched as something different from other games in Ubisoft's portfolio. The Division, Ghost Recon Wildlands, Rainbow Six Siege – they all share the concept of team and the idea of community that (apart from all the rework Ubisoft has been doing to fix the mistakes they, purportedly, keep doing with every always online game launch) has represented a tool for them to shift based on people's feedback and build the title users, not developers anymore, wanted to be made.
This is a different beast. As a standard fighting game, For Honor comes with a more personal experience, one that you want to live alone and then, at most, feel the desire to describe and share with your friends. Ok, there's a multiplayer mode where you can fight in a team against another team of foes, but let's be clear – everyone fell in love with the For Honor that allows you to just focus on a duel, with its amazing fighting system, and not the one that's basically a deathmatch where all the things you learnt in 1v1 don't mean anything anymore.
That mode is missing the point with what the game really means to people (who love the core fighting mechanics, or at least most of them), can't grant people's engagement because it's all so random and doesn't present any real objective for you to fight for. It'll be interesting to see whether they can, in the upcoming (in the fourth Season), replicate what of good they've done – maybe with some more and better balance – with the 2v2 duel mode.
Let's take a look, now, at all the content, new modes and polish coming by February 2018: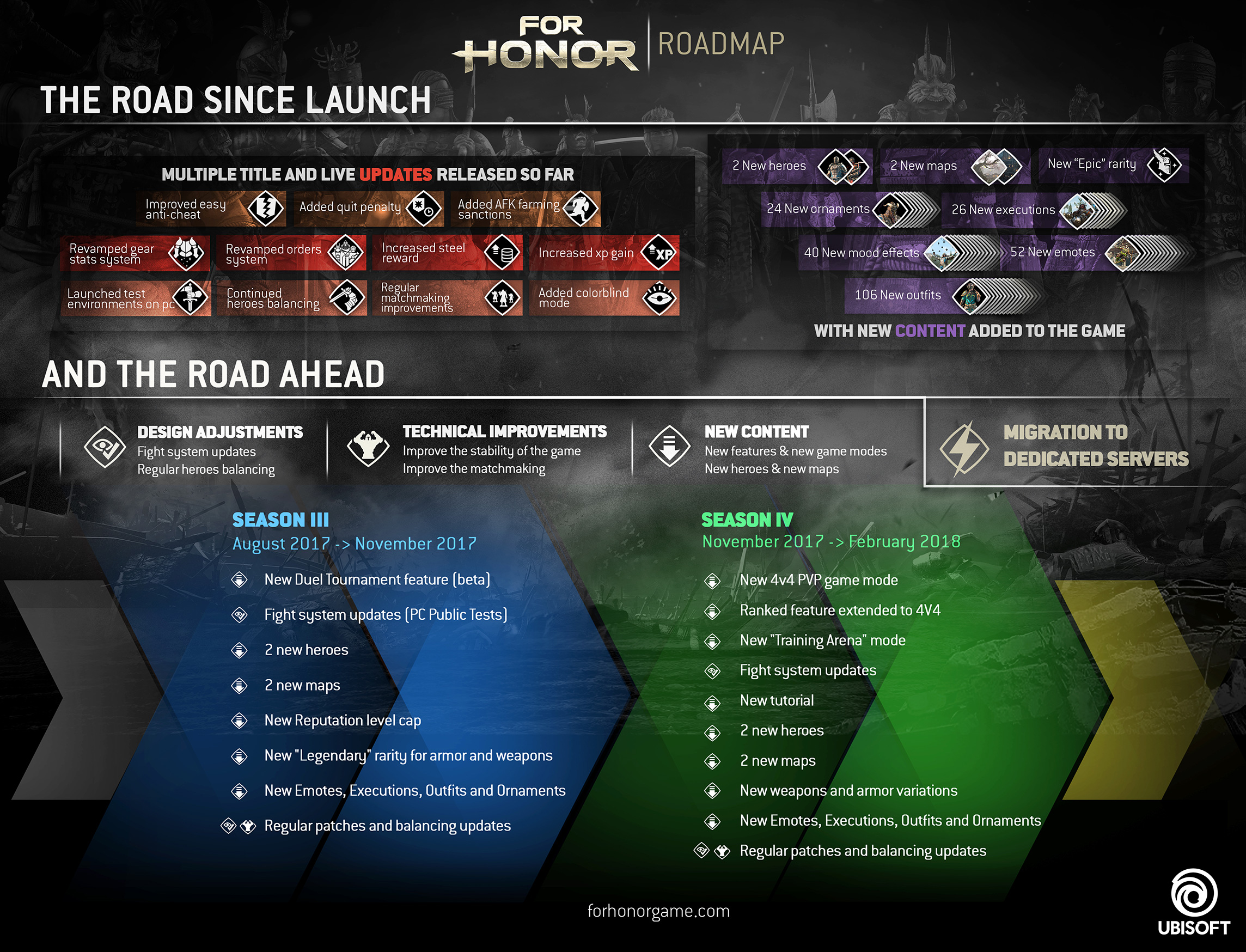 Ranked matches
Fighting-system alterations that will make attacking less risky and defending less of a sure bet
A new tutorial and training arena to let you practice your combat techniques
A move to dedicated servers, which will improve connectivity and match stability.
Four new heroes
Four new maps
A slew of new gear and emotes
More frequent technical and balancing updates.
Ubisoft's Efforts Enough?
Is this enough? Well, this is sure enough a good, new beginning. In my opinion, if you were surprised by the fresh concept behind For Honor, and passed upon it because you heard all the (rightful) negativity involving the game post-launch development, between now and the end of August it'll be a pretty nice moment to get into the fight. It'll still need everyone's patience, but at least it looks like Ubisoft is getting in the best path possible. You're basically the only ones who can allow this game to live on.
On top of that, this might also be a good indication for the makers of the game: it's a good moment, for them too, to understand they need to build more content, and better polish, since the titles' launch and not only when things turn into a disaster. There's still time to learn, as Ubisoft has confirmed they'll only launch new IP like this – I'm staring at you, Skull and Bones.