8 Best Gaming Chairs Buying Guide for 2019 | $200 To $600
Gaming Chairs sounds an expensive add-on for your setup, but at some point, it's an only accessible tool to enjoy non-stop gaming. We do find our Gaming Setup incomplete without an elegant Gaming Chair and looking a model that falls under your Budget, plus gives you all required features and advance benefits is a daunting task. There are tons of models in the market, so in this article, I had tried to bring the best one divided into three categories, Ultra-Affordable (up to $200), Expensive (up to $500) and Exclusive Models($500 above). The Ultra-Affordable budget might sound high, but remember we only discussion about Gaming Chairs, not the regular one or office chair models. Gaming chairs have certain features that the regular one does not provide, so to save your time keep reading. In this article, you will also learn about necessary points to consider before buying a Gaming Chair whether offline or online and further you will see top models that I think can be ideal for a Gaming Setup.
Top 4 Points You Should Know Before Buying A Gaming Chair
Some factors are essential to consider before you are blinded by the Design or Look of a Gaming Chair, which is the only USP of most of the models in the market. We had picked the top 4 points below you can note them down and use them for your next purchase, and if you want to see the models skip this section.
Budget: Determine the price range you are ready to pay if you find the ideal model of Gaming Chair. Do this first so that you can filter down expensive models.
Your Body Type, Height & Weight: It is always prudent to choose a Gaming Chair based on your Body Type, Height, and Weight for maximum comfort. Taller people can face back problems with a chair that has small back support, compared to the people with average height won't be able to adjust their arms and position if they buy something too big. So if possible try to understand the ergonomics according to your body type, check whether the model you want can handle your weight, and offer you a comfortable sitting as per your height, lumbar support, proper neck rest, bucket design and flexibility of adjustments.
Branded & Unbranded: A lot of Gaming Chairs is built by the same manufacturer but are re-branded and sold in the market on the higher price tag. So finding an alternative un-branded or a less-popular brand can save some money. The designs will be similar to some dissimilarity. Also, a lot of unbranded products has a severe issue with Build Quality, while buying online go through the reviews to learn about common problems.
Ergonomics: This is the important part, here you have to check Seat Style, Arm Rest Adjustments, Neck Pillow, Height & Recline Adjustment, Base Titling, Lumber Support Pillow Adjustments, Cushion Fabric Quality, Durable design, and Warranty because the models are costly.
Health Warnings:
Prolong sitting on chairs can have an adverse impact on back, having the best chair does not mean you can avoid it. It is recommended to take short breaks, stretch your body a bit and continue. Especially gamers, who spend hours by just sitting in a single place, please refer the health risk below and some tips to avoid them or instantly seek for medical help.
Health Risks of Prolonged Gaming & Sitting:
Gaming Addiction can trigger:
Migraine, Fatigue, Carpal tunnel syndrome, & Poor personal Hygiene.
Health Issues due to Prolong Sitting:
Obesity & Bad Cholesterol
Diabetes
Poor Blood Circulation & Weak Muscles
Posture Issues and Body Pain
Slow Metabolism
Tips To Avoid Health Problems due to Sitting:
Workout or do physical activity at least for 30 minutes in a day.
Try taking a small walk or stand at least once every hour. A 2 min break can help your body to manage Glucose and Insulin response.
Below you can find different gaming chairs sorted by budget and availability on Amazon. We had tried to pull the best price, but there are possible changes that it may differ so go through different vendors for the exact cost.
Best Gaming Chairs Under $200 – Ultra Affordable to Affordable Range
The models listed in this category consist of affordable gaming chairs. Many models are available online Amazon, do check the reviews before you choose to buy one. Some of the models are highly rated and purchased.
Homall Gaming Chair Racing Style – $99.99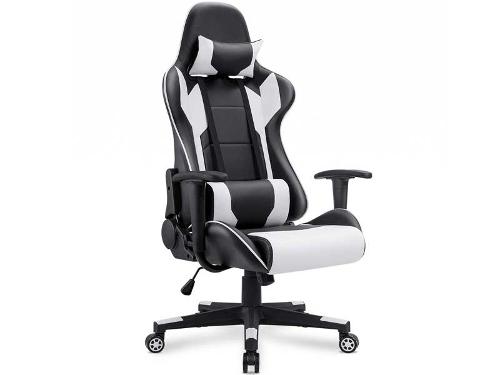 Homall Gaming Chair features PU Leather, high-density foam, water-resistant design, 1.8mm thick steel frame, and more features. The chair can support up to 300 LBS weight, it comes with 360-degree swivel, and reclines between 90 to 180 degree. It also features rock back and forth. There are different color choices available.
Furmax Gaming Chair – $59.99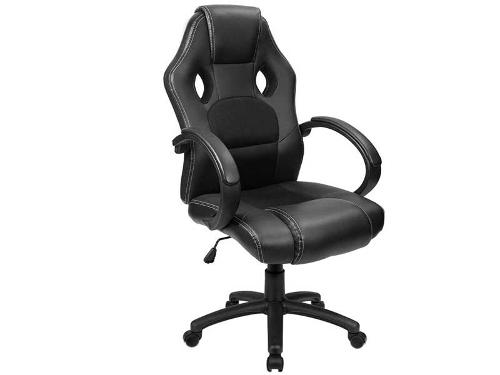 Furmax is more like a hybrid model between an office chair and gaming chair. It is ultra-affordable and comes with some features of a Gaming Chair, for example, high back and bucket seat with fixed padded armrest. It also features 360-degree swivel and wheels below; it can rock back and forth.
GTRACING Gaming Chair – $159.99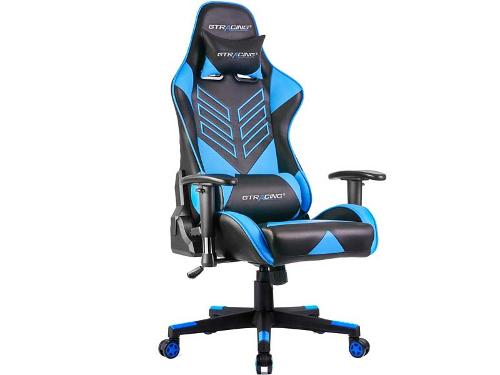 GTRACING is one of the gaming chair models; you can view in the picture above the look and learn a few ergonomics. It is a multi-functional model that supports different body shape. It has a metal frame, removable headrest pillow, lumbar cushion, etc. It also includes standard features like height adjustment, armrest adjustment, 360-degree swivel, adjustable brackets, etc.
Devoko Ergonomic Gaming Chair – $109.99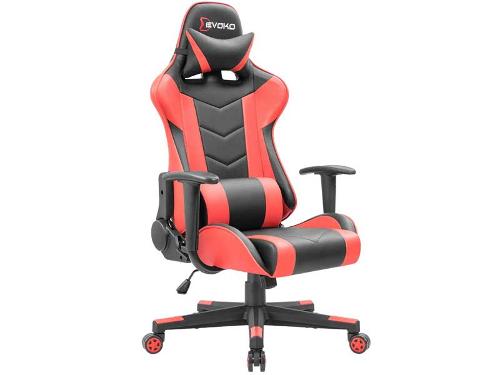 Devoko looks like a cheaper alternative of GTRacing Gaming Chair, it stylish and features a breathable premium leather. The lumbar and headrest pillow both are adjustable; it has all regular features of gaming chairs. The benefits of this model are that the manufacturer is offering you a free replacement or refund who face quality issues within six months. It sounds enticing, but do read all the terms and conditions, and availability in your region.
Best Gaming Chairs between $200 to $500 – Expensive
We have included another brand Secret Lab Titan which is sold through its official site, and checking out its reviews and ratings it sounds a decent model for this price range category.
Secret Lab Titan Series – $389.99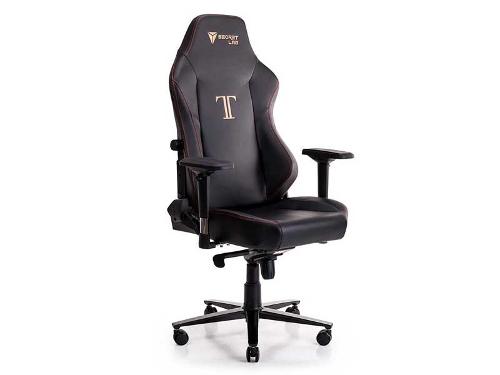 Secret Lab Titan is an exclusive gaming chair model that has impressive design and an integrated adjustable lumbar support. With the help of a dedicated knob, you can adjust it for comfortable sitting. Secret Lab assures you about the quality; the mode has a car racing seat with high-quality PU Leather for smooth and long lasting usage. It also features a 4D Adjustable armrest, head pillow, aluminum base, class 4 hydraulic pistons, and a multi-functional tilt mechanism.
Secret Lab Omega Series – $329.99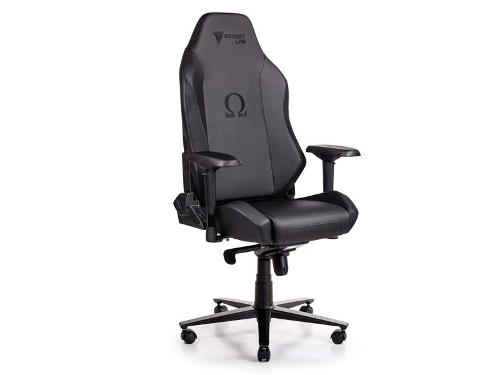 Another gaming chair by SecretLab Omega features car racing seat and quality material. It has a 4D armrest with PU for max comfort. Specially designed lumbar pillows are for your back and a head pillow for next support. Omega has Class 4 Hydraulics, for stability and safety. It promises you more quality and comfort with full-length backrest recline, multi-functional tilt mechanism, aluminum base, and many more amazing features.
Best Gaming Chairs above $500 – Costly & Exclusive Range
Now we land into the costly range where everything is luxury, you spend a significant amount on the looks and feature both. We are not going to add too many models here; we pick a couple of them that we think can be an ideal gaming chair. The models feature exclusive build quality which makes them costly, a futuristic design and comfort, otherwise, if you look through our mid-range models a lot of features are similar.
Noblechairs Hero Gaming Chair – $596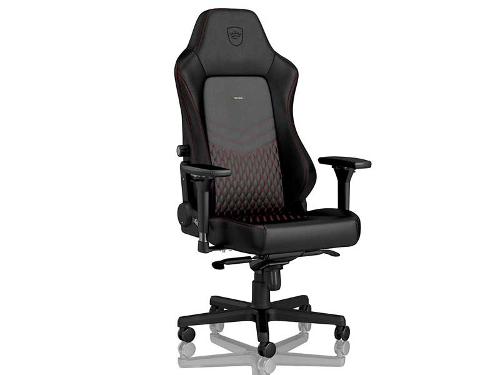 The above models focus more on Office Chair, but the feature does make it a gaming chair. It might not have that looks, but the chair offers you good design, premium materials, lumbar support, 4D armrest, rocking mechanism, etc. It is a high-quality model. The same models cost for $719.99 with Real Leather $489 for Hero Big Edition.
NeueChair – $546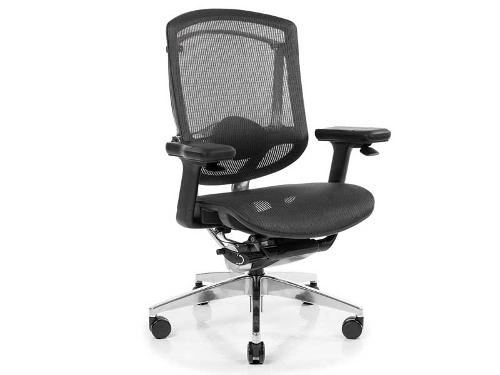 Adding Neuechair to this list might look odd, but this is one unique model that brings a lot of gaming chair features in a very classic design. If you don't want something very flashy or with tons of adjustment, then this model is something you might look once. It features an elastic, breathable mesh that promotes modern workplace, but it also integrates quick adjustment and talks about some health benefits. Neuechair comes with Lumbar Support, double layer Class IV hydraulics, design for long hours of seated work, and a sturdy aluminum alloy that makes it an extended lasting model.
This completes our list of 8 Best Gaming Chairs for 2019. We picked the best one after sorting through various branded and unbranded models. Our objective behind the above suggestions is to look which Gaming Chairs have good ratings on eCommerce platform like Amazon and how much positive buyers are after purchase. There is a possibility that we might have missed some good gaming chair models that you are aware of, help us to improve this list. Share your suggestions of best gaming chairs in the comments section below.