Horizon Zero Dawn Ending Mystery: What Happen To Sylen?
Horizon Zero Dawn occurs in a far-away future past destruction of human race by Faro Robots, premeditated for peace. The tribal people who lived called the destroyed race as ancient ones, unaware they were reason of destruction. The ending seems to be incomplete, possibly could be concluded in the sequel.
SPOILERS ALERT: If you had not finished this game yet, remember there are SPOILERS ahead.
Aloy the protagonist is the key to access the core information, hidden from the tribal population. After playing later half of the game I am quite unsure about the mysteries revolving around terraforming AI GAIA, Sylen the one who served Hades and build Eclipse, and Hades a subordinate suite of GAIA, the enemy activated by some unknown signal. In this article we will try to analyze it.
Aloy finds GAIA in Main Quest – Deep Secrets of the Earth after she gets the uncorrupted master file to access the door of sacred mountain, place where Teersa finds her for the first time. GAIA is the Terraforming AI created by Dr.Elisabet Sobeck. Dr.Sobeck was aware of the rogue robots, they can't be stopped, but it is possible to give life a chance again by a self-aware AI who can restore the conditions on land back as it was before, and let the human race to survive again. So she created a set of a comprehensive suite of subordinate functions to support the AI to reconstitute planet earth.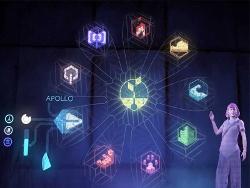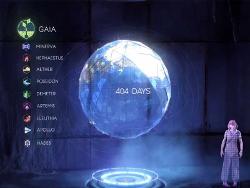 But before everything could fall in place, an unknown transmission turns its subordinate Hade into unregulated, self-aware entities of a highly chaotic nature. GAIA is capable of creating code that can impede the biomatter conversion system of robots to stop complete extinction of humans on the planet. Hade took controls over the terrforming system and activated a reverse operation of rendering life on Earth to extinct. GAIA sacrifices itself to stop it, but not completely.
Sylen finds a broken focus and gets transmission from Hade. Later he helps Hade to build Eclipse, an army of his own who wants to capture Meridian, the city that has Spire, part of Minerva the top subordinate system that transmit signal to all robots. Instead Hade wants to use it for activating the war machine to kill humans. Top stop this GAIA commands destruction of its prime reactor that will stop everything.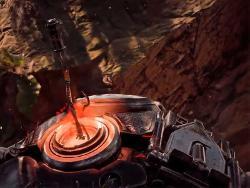 Hade was stopped but not destroyed after Sylen discovers the focus, he was used by Hade to recreate the same scenario and when the army was ready he commands his execution. Eventually stopped by Aloy, she uses master override on lance given to her by Sylen at GAIA Prime. This could be his plan for getting the signal or say a power that fully controlled Hades. In the end, you will see Sylen was the only one to get that transmission trapped in a cage, my first assumption is, Sylen can be a fail-safe plan of that entity. It knows if Aloy wins, Sylen is the only one who is competent of rebuilding its army once again.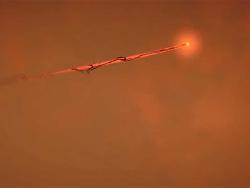 Second assumption is in the next sequel Sylen can be the lead enemy, the signal that corrupted Hades is not destroyed, and it is with the person who was promised by the alien transmission, an abundant knowledge of ancient ones.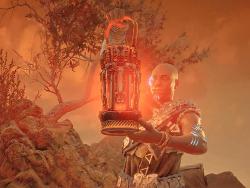 A lot thing does not fit in my mind. First who wants to destroy humans, why Faro Robots turned rogue, etc. There can be a possibility of some alien invasion. The group of Alpha Primes the core team is dead as seen in the hologram in the game. No one from the old advance human race is alive. So they can't be involved in sending the signal that activated Hades. GAIA on the other side requires a reboot to start the terraforming of planet.
News Update: Horizon: Zero Dawn 2 (Sequel) Might Reveal All Original Mysteries
What do you think, will there be a sequel or a DLC? Do share your views about the game in the comment section below.