Nutjitsu Dev Interview: "New Features, Levels/Ranks, Power-ups, Xbox One, ID@Xbox Program & PS4 Port"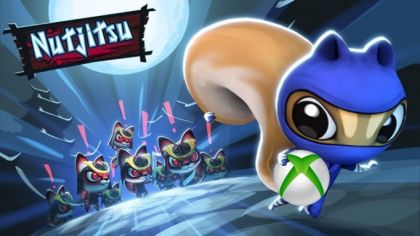 Nutjitsu from Ninjabee will be one of the first few indie titles coming out for Xbox One later this month under Microsoft's ID@Xbox program. We recently got in touch with Brent Fox, Art Director Nutjitsu and talked on numerous topics related to Nutjitsu for Xbox One. Read our full interview below for exclusive information on "Nutjitsu for Xbox One exclusive features, multiplayer, levels and ranking system, differences from other version already available and many more things. So without much ado, here is our full interview with Brent Fox on Nutjitsu.
Gamepur: First Congratulations for Nutjitsu as your first title to launch on Xbox One. How's your experience to develop for Xbox One?
Brent Fox: Thanks! We are really excited about our early entry for next generation consoles. So far our experience has really been great. We've been able to get something going very quickly. There have been a handful of challenges but those exist on every new platform.

Gamepur: What are the new things in Nutjitsu Xbox One version over its version on other platforms like Windows 8?
Brent Fox: We rebuilt entire systems, like the controls and UI, for the Xbox One experience. We give achievements, post to leaderboards, award gamerpics, rumble the controller, store progress in the cloud, and a lot more! We rebuilt high-res animated assets for every level and we've been constantly working on improving and deepening the gameplay. We also think the game is especially great with a controller, it is a totally different experience than touch controls.

Gamepur: Can you give us some inside details about features of Nutjitsu which are only specific to its port for Xbox One?

Brent Fox: We have put a lot of effort into making sure Nutjitsu is a great experience on the Xbox One. We choose to create this game in HTML5. Yes, it really is HTML5. We released very early versions on Windows 8 and used them to get valuable feedback to help us improve the game. That first release wasn't our final target. We are concentrating on making a fun game more than specific console features. We believe that this approach is best for the game and it will provide a ton of opportunities in the future.

Gamepur: How many Levels and Ranks will be available in Nutjitsu at launch? Can you provide us details about Levels and Ranks?
Brent Fox: Available at launch there will be 15 visually stunning Levels and 25 ranks to achieve. Levels unlock as the player earns ranks. Ranks are earned by completing Ninja Missions or playing Survival mode. Every new level is not only visually and thematically distinct, but contains a unique set of usable pathways. The change in layout creates new strategies, as movement through the space requires new strategies.

Gamepur: Any new levels/modes designed for Xbox One only? Something you want to recommend that Xbox One owners must try?
Brent Fox: I would guess this will be the first introduction to Nutjitsu to most Xbox One players so everything will be new. Try it all. I want to get the game in the hands of the players so they can see firsthand how fun it is.

Gamepur: Can we expect highly detail levels on Xbox One?
Brent Fox: Oh yeah. Everything is higher resolution for your HD TV. With the power of the Xbox One we've also been able to add more details. Every level is alive. We've also been able to add features like moving water and other animations to each level.

Gamepur: The hand-crafted levels of Nutjitsu in Windows 8 version of are amazing and look astonishing. Do you mind telling us source for your inspiration?
Brent Fox: We settled on the squirrel ninja theme early, because ninjas and squirrels are awesome. We spent time researching and looking at tons of environments that could have fit will with this theme. We drew on a lot of sources for our inspiration. However, I need to give most of the credit to our amazing artists Patrick and Daniel. They are very talented and creative. They came up with the initial concepts, and we just had to have more like it. The whole aesthetic just grew from there.

Gamepur: How acquiring power-ups system will work in Nutjitsu Xbox One version?, we would like to know some details on it as you made some changes to its working via first update on Windows 8 version after its launch.
Brent Fox: Windows 8 has been a great testing ground. The game has become progressively bigger and better after each update. The first prototype only contained the smoke bomb item. After our initial launch on Win 8, we created a total of five ninja power-ups, each with a unique function. New power-ups become available as the player earns new Ranks. In the current version of Nutjitsu, we want to allow the player to react strategically to any challenge presented to them. To that end, players earn generous amounts of acoins whenever they play, which allows them to construct a personal arsenal that suits their play style. I prefer the flame shield myself. By using the power-up store and the power-up loadout screen, the player can decide what set of powers will be best for any level they want to play.

Gamepur: Can we expect online multiplayer components in Xbox One version of Nutjitsu?
Brent Fox: Our initial release won't have any online multiplayer components but we see a lot of potential for multiplayer in this game in the future. We've got a ton of ideas to play with.

Gamepur: How you feel to be a part of Microsoft's ID@Xbox program, and having chance Nutjitsu to publish via this program? As It's one of the first title to release via this ID@Xbox program.
Brent Fox: So far it's been everything it was advertised to be. Of course, we will know a lot more about the program after we have released a couple titles. The big thing to note is that Microsoft is taking it seriously and putting a lot of effort into this program. Developers are actually releasing games and that's a big deal.

Gamepur: Have you given any thoughts to develop for PS4?
Brent Fox: Absolutely. We see some big opportunities in addition to the Xbox One and we plan on taking full advantage of these opportunities, both with this game and future titles.
Gamepur: As a developer, how much freedom you get for developing for Xbox One? What is your experience about Microsoft's next-gen gaming beast, Xbox One?
Brent Fox: We've been working with the hardware for a long time now. Everything has been constantly evolving and improving. It certainly seems like we have a ton of freedom and we see some really cool features of the Xbox One that haven't been fully utilized by anyone. We plan on tapping into some of that awesomeness for our games.
Gamepur: Xbox One's eSRAM has been in the news for all the wrong reason. Many developers have openly admitted that it's the main culprit behind games being unable to run at 60 FPS/1080p resolution. Now that NinjaBee has access to Xbox One Dev Kit, we would like to know your opinion on Xbox One eSRAM and how development team at NinjaBee are handling it?
Brent Fox: We aren't the best team to ask about this right now. The way we've developed it hasn't been an issue for us yet.
Gamepur: Can we expect more titles for Xbox One from NinjaBee soon? Any ongoing development for Xbox One?
Brent Fox: Yes. It is a really exciting time for us at NinjaBee. We have a bunch of games in the works. We are doing a lot of testing and prototyping. We even recently released some information on our blog about some of the IP that we are working on. Also, we even have more that we didn't even talk about. If Nutjitsu proves that we can release great games quickly on the Xbox One we will be ready to follow up with more games in short order.
Gamepur: It was really great to have a talk with you. We thank you for your time. Any last messages for Xbox community?
Brent Fox: We love community feedback. We want to know what you think of our games. We have you guys in mind as we are choosing what to work on next.