Overhype Might Prove Double Edged Sword For The Last of Us: Remastered PS4, Where is the Actual Gameplay running at 1080p/60 FPS
The Last of Us on Playstation 3 was a masterpiece, graphics/visuals, storyline, gameplay in every aspect it was perfect. Naughty Dog once again showed why they are the best in business and what exactly is raising the bar for them in the gaming industry. Few months after the launch of The Last of Us on Playstation 3, Naughty Dog announced a remastered HD port for Playstation 4, "The Last of Us: Remastered". At the time of the official announcement, Naughty Dog stated that the studio is targeting "60 FPS" for Playstation 4.
Two trailers of The Last of Us: Remastered has been shown so far, both looked stunning, but those were not the actual gameplay footages. Recently, few developers at Naughty Dog tested The Last of Us: Remastered on Playstation 4 and they are teasing as if it's newly discovered "Eight Wonder of the World". Here are a few quotes of developers on The Last of Us: Remastered
"This is next-gen for me: compared to PS3, PS4 TLOU:R is loading higher-res data and WAY more of it to fill 8 GiB, and it's *still* faster." said Drew Thaler.

"Testing #TheLastOfUsRemastered, holy cow it looks like it was originally created for the #PS4. One of the best next-gen titles I've seen." said Benson Russell, Senior Game Designer at Naughty Dog

"I had a dream in 60fps last night. #TLOUremastered" what if I told you that was no dream? #believe" said Neil Druckmann
Another thing Naughty Dog said related to graphics/visuals in The Last of Us: Remastered, character models they are using for gameplay in Playstation 4 port is of the same quality as that of the models used for Playstation 3 cut-scenes. This implies that "The PS3 cut-scenes graphics would be similar to PS4 gameplay graphics"
If Naughty Dog is so confident about The Last of Us performance on Playstation 4, why haven't they showcased actual gameplay running at glorious 1080p/60 FPS on Playstation 4? Because major benefit of HD/Remastered port is the boost to 1080p/60 FPS, and so it's necessary to release a video that can show that i.e HQ Direct Feed. Furthermore, gamers memory does not lie to them, so they aren't going to fully appreciate the impact of these never seen before new enhancements until they stare at it right on their face.
Previously, gamers have been at the receiving end for buying the game just on the hype. Remember Uncharted 3: Drake's Deception graphics downgrade controversy? check out the screenshot below. So it will be better for gamers to see the next-gen features, enhancements, 1080p/60 FPS in The Last of Us: Remastered for Playstation 4.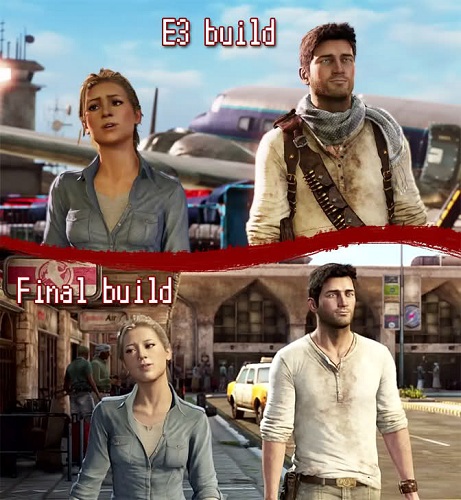 The Only Side-by-Side Comparison Screenshots of The Last of Us PS4 vs PS3 via announcement trailer.

I am not raising any question on Naughty Dog credibility, it's just that they are teasing something extra-ordinary, never seen before, with The Last of Us: Remastered on Playstation 4, so now its high time that they show the glimpse of what exactly they have in store for us.