PES 2018 Online Beta Hands-On: Manages To Keep The Fun Promise, Really Entertaining
During the last few days, I had a chance to give PES 2018 an early look & play on PS4, thanks to the online beta you can try, too, on Xbox One as well. It's online until July 31, so you're still on time if you want. At any rate, I really enjoyed the experience – I see PES 2018 is all about the fun, and at least in this phase it manages to keep the "promise." It's really entertaining, and it is for couple reasons we'll talk about here.
What Is Good In PES 2018?
The PES 2018 online beta is based on few good things, that, to be honest, I found good in the previous couple iterations of the series. First, short passing is pretty nice. When playing the game, you always have the impression to have an amazing control over your actions, and this allows you to quickly deploy great passages to have your strikers right in front of the goal. In comparison with FIFA, for example, it's easier to get your players in interesting situations, where they can actually score or at least put your opponent's team in some serious danger. This also comes because of the size of the pitch, which is clearly a bit larger, and the slower pace of the action, which grants you with more time to think about what you should do… and actually, do it. Nicely, the game is every year a little faster and smoother, that's something I kept asking for ages before they started doing it in, like, 2015.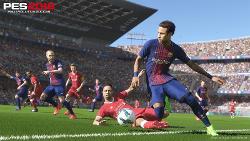 If you're used to FIFA, you'll notice that playing the long pass won't be a good choice in the largest part of the circumstances. While on FIFA, in fact, you usually opt for the long pass because you know where it's going, PES plays a lot different and this year's iteration doesn't make a huge change in the formula. You'll need to charge a big portion of the bar, and even if you do you won't ever be sure to know where the pass is actually going. Indeed, when I played the long ball or tried so, it always ended with the ball at my opponent's feet, which seriously put my team at the risk of getting a totally undeserved ball. So my suggestion is – don't play the ball. As long as you don't, the passing on PES 2018 is great.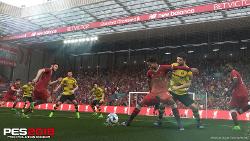 Realism Like Never Before In Goalkeeper
One more thing I looked into, as it's really evident, is the realism and effort Konami put into goalkeeper's animations. In football, you might have noticed that during the last 7-8 years goalkeepers are acting a bit different in comparison with the previous generation (for example, Buffon still is a normal GK, for the reasons I'll tell you now). Players like Neuer and overall the goalkeepers from the German school tend to be very uncoordinated: they simply don't care about the style, all they want is to cover the biggest part possible of the net and appear as big as possible in front of the opponent strikers, so that they can somehow get distracted by their movements. PES 2018 takes all of this and makes it a reality in video games, so that – already in this online beta – you can see goalkeepers that act a bit "strangely" but ultimately with a lot of realism, defending with their open hand and all that stuff, totally differently from what we're used to by the last 20 years of games about football – where the GK still is the very plastic man that dives onto the ball without not only making any mistakes (something FIFA has addressed, too) but also, and perhaps most importantly, giving you the impression that they can do mistakes. It's a detail, but after so many video games about football… details are incredibly important now.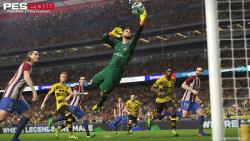 Online Multiplayer – Hit Few Areas Right, Misses Lot
Talking about the online beta itself, we know PES has always had problems with the multiplayer component, which very rarely has been lag free. It's still a bit early in the process to give a complete impression about this aspect – few players online in comparison with the live version which will be available in September -, but I must say I've been surprised to see such a smooth gameplay experience at this point. Even with my cheap Internet connection, I was able to play without any issues, if you don't take into account things like people disconnecting because they can't handle the fact they're so bad in video games about football.
Teams involved are definitely strong enough to allow you to score a lot, and I must say that already on the first match I won 2-0 with my Brazil against France, so sure enough we'll need to further check the complete and final PES 2018 to see whether these impressions will keep being this positive or, using less skilled players, more flaws will keep rising – as it often is after demos. We'll be sure to keep you informed about the evolution of Pro Evolution Soccer 2018 (wink wink) in the weeks ahead.