Best Sims Expansion Packs
The Sims is the ultimate game for those looking for casual video game fun. Not only can you create and run your life in digital form, but you can destroy it too, taking out annoying family members with carefully placed diving boards or completely silly house fires. Not only that, but you get powerful tools to plan and build a house for your Sims that only dreams are made of.
But the Sims is one of the few games where frequent content updates are required to allow the mechanics to feel fresh and exciting. That probably explains the number of expansion packs the series has seen over its four main games, which generally do very well as the content packs add enough new items and mechanics to keep the hardcore fanbase interested.
Some of the expansions have been genuinely great additions to the series, providing weird and enjoyable extras to a series that has never had a problem finding an audience for its silliness. The original game, and Sims 2 along with their expansions are surprisingly hard these days to find and play, but until their collections become available digitally, you can at least be sure to know which ones to look out for if you want to build up that collection now.
To celebrate the release of the Sims 4's latest expansion Island Livin, Here are the best expansions in the history of the Sims.
Best Sims Expansion Packs
Unleashed (Sims 1)
Introducing one of the most requested features of the game upon the original release, the Unleashed expansion pack allowed players to have pets in their home for the first time. Interactions with them included teaching them to be housetrained, obedient, and even show them tricks to be able to do. Once ready, you can also enter them into pet shows to take on pets from other families in the town. It was great fun to interact with and train a pet from scratch and brought a higher level of interaction unseen in previous expansions.
You could also start your vegetable patch and grow your produce! Along with a fresh set of items to interact with using your pet meant that the expansion was one of the most enjoyable of the original game.
Makin' Magic (Sims 1)
In one of the best examples of being able to take your Sim outside of your house setting to Magic Town, Makin' Magic was a reasonably extensive expansion. Not only did you have the ability to go to the carnival and having fun in several activities, but the items that you could bring into your Sims home was also a fresh set involving wizardry. The fact that you could go and take on your neighbors in magic duels was cool enough to make Makin' Magic a part of your collection.
You can even cast spells as Sims and includes the ability to turn pets (if you have Unleashed) into Humans, and give Sims 4.5 star fame points (if you have Superstar). It made for significant expansion and probably the best of the original game.
Nightlife (Sims 2)
The second of the expansion packs for Sims 2, Nightlife is similar in tone to that of the Hot Date expansion from the original, but what sets this apart is that it works much better with the Sims 2's more advanced relationship and social elements. You can take other Sims out on dates to a fancy restaurant or to a nightclub where they can party the night away. But the expanded social interactions in the already decent range of options in Sims 2 meant that this was a great extension to what was already a perfect aspect of the game.
Not only this, but other features also offered some excellent quality of life upgrades, including the fact that your Sim could own and drive their car, meaning you weren't reliant on the carpool, and reintroducing inventories, similar to that of Unleashed. All in all, Nightlife made for a cool, yet versatile update to the Sims 2.
Seasons (Sims 2)
Anyone not familiar or knowledgeable of the Sims might be confused to know how an expansion that adds a weather system to the game can make it one of the best expansions. The game is a life simulator, and it relies heavily on its ability to make a living the life for your Sims as realistic as possible without compromising fun. The atmosphere is part of that, and that's why Seasons shines. Adding a weather system, along with scenery to match the seasons, brings more to the game than meets the eye for longtime fans.
Add to this the ability to reshape your garden more than before, as well as a suite of fresh new items and a new neighborhood to visit with the beautiful weather meant that Seasons was an understated contribution to the game.
Ambitions (Sims 3)
Very much rooted as the career-related expansion, Ambitions offered a lot of cool features that, like Seasons, provided small things that offer more than the sum of its parts for the avid Sims player. Several new careers that you can use apply to become self-employed in with just a single skill point and a trip to the city hall, a new town added in Twinbrook, as well as a diverse set of new items and Renovation Mode for Sims that are keen on the idea of becoming an architect.
It also added expanded options during the build mode, allowing those looking for a more personal touch to their home to make a change without too much fuss. Also, earthquakes are now a thing which adds a cool minigame into the gameplay. Perhaps it wasn't the most ambitious of expansions, but it provided several cool features that allow you to tackle one of the most critical aspects of the game better.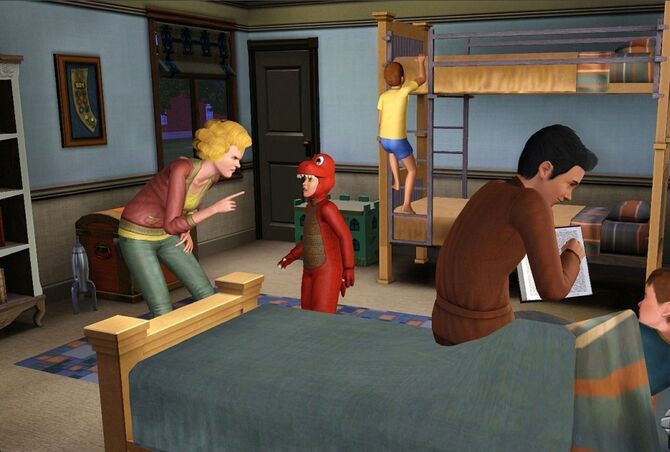 Generations (Sims 3)
Every parent will be able to relate to this expansion, as the game provides a significant upgrade to family elements in the game, including fleshing out the behavior of children as they grow up. Is your teen going to be a sweet and caring individual, or are they going to turn into a rebellious little pain in the butt? It's something every parent has to go through, and now you can see in the Sims too! And if they are do need some discipline, Generations allows you to send them to boarding school to learn new skills while they go through their phases.
As you can tell, Generations is all about bringing the kids to the forefront, allowing you to not only customize their childhood more than ever before but also brings to life their growth and progression into a relatable state. Add to that a host of new and exciting items for your home, mid-life crisis for adult Sims and more parties for your kids to host and ruin your home; it's another expansion that adds a great deal to the experience.
Seasons (Sims 4)
While it might seem a cop-out to choose another Seasons expansion. It's difficult not from a player perspective to see why Seasons is as good an expansion to the Sims 4 as it was to Sims 2, especially with the Sims 4's massively expanded exploration options as it means days will feel a lot less cookie cutter, and more how you would experience life as a real person. It brings a new dynamic to the game regularly as you have to adjust to conditions.
It also allows for more seasonal celebrations too. As the holidays roll around, the game offers more options to spread your cheers. Moods can change based on how the holiday goes. Always wanted to go all-out but never consider doing it to your home? Well, your Sims will party hard and bring the festivities for you! It's once again an expansion that brings together many small things to make a whole great one, and Seasons once again shows just how much of a positive effect the weather and the changing of Spring to Summer can have on the game.