Tom Clancy's The Division vs Destiny: Top Differences And Similarities In Five Points
With the closed beta arrived to an end, it is time to ponder which is the real Tom Clancy's The Division dimension; which is basically its true competitor. Being such a new and fresh experience, it is not easy to find the correct answer, but the fact it is an online multiplayer game surely puts it in the condition to face Destiny. Bungie's shared world shooter has had a great start, with one and a half year where it was the one and only choice of million players when it came to multiplayer experiences. It has been able to offer the first true massive and persistent console experience of success, convincing even World of Warcraft that they could come to Xbox and PlayStation to join an MMO-like.
What about The Division, then? Of course it needs to differentiate from Destiny, as the latter's fanbase is loyal and will be back to it as soon as Bungie and Activision will launch new contents for it. One more fact about this dualism is that The Division ultimately launches at the right moment, as Destiny is lacking additional content/Destiny 2 and people who have been playing it lately are starting to be tired about this. Making them a good and mid-long term offer would mean "steal" market shares from Destiny, without not so many chances they could return to Bungie's community anytime soon.
So, being this the big picture, let's take a look at the main differences between Tom Clancy's The Division and Destiny. We'll be discussing here matters of both gameplay and concept.
Setting
While Destiny is a sci-fi fantasy based shooter, Tom Clancy's The Division is post apocalyptic but focused on realism, as the Tom Clancy's label would let you think to start from. Destiny is set in the entire universe, in a remote future, meaning that weapons and accessories, together with locations, reflect this perspective. The Division has one single location and this allowed the developer to better focus on shaping it up the best way they could.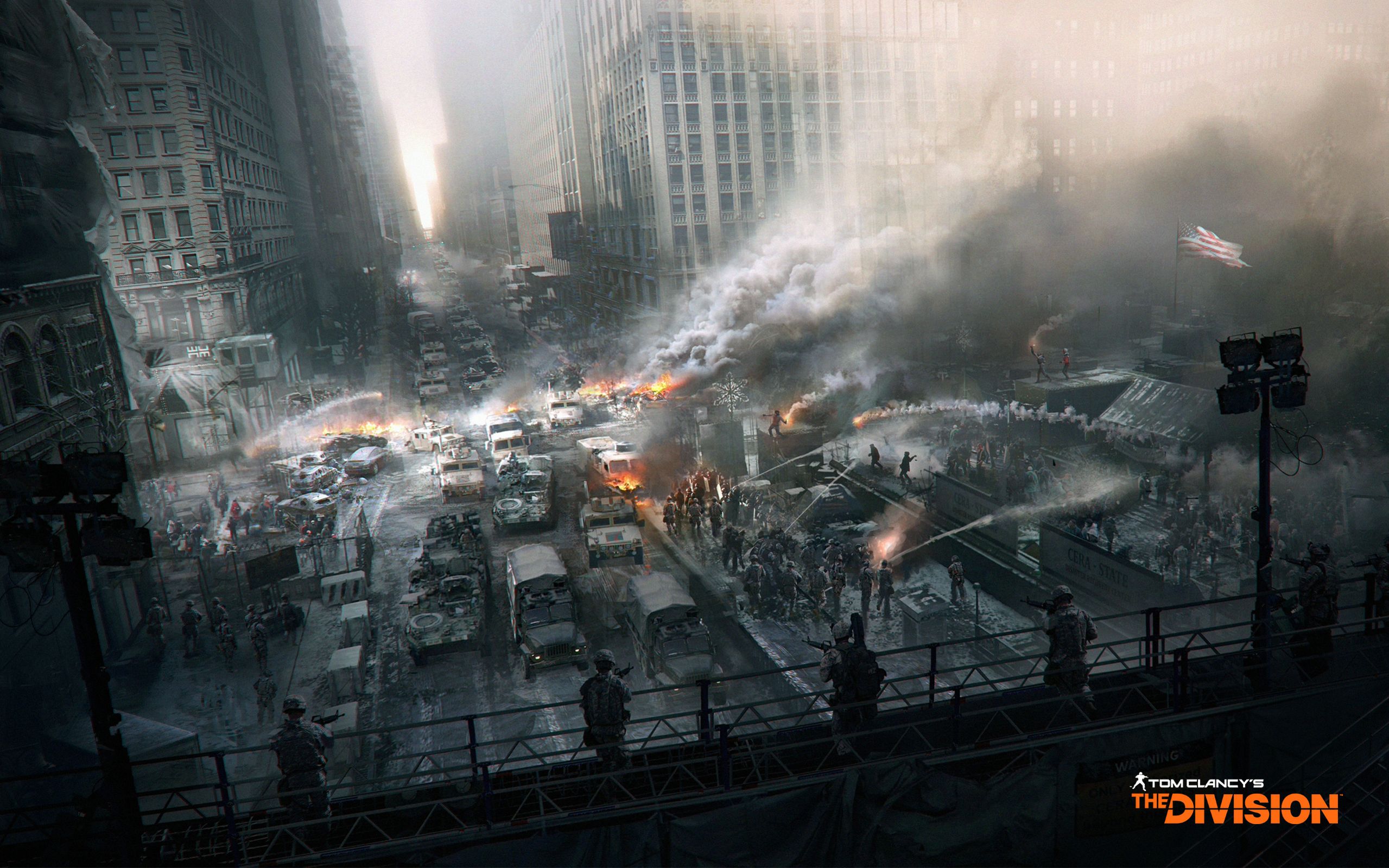 This is why we have a 1:1 snowy Manhattan, offering some of the best landscapes on the video games market. We loved Destiny setting but currently The Division looks a bit more charming, without taking into account that being set in a not so far future allows Ubisoft's game to stick much more to real weapons and tactics.
Gunplay
Well, we have two completely different beasts here. Destiny is a frantic first person shooting experience, The Division is a cover based third person shooter game, so it is obvious they have different gunplays and feelings to offer to all of the gamers. It's unfair to say which one we would prefer now, but it looks obvious that in terms of addiction Destiny seems to have a better chance to raise such feedback from players as it is simply spectacular and fun. You execute kills while jumping, for example, and it is something you can't do in real life and The Division.
In Ubisoft's shooter, you would have a hard time if you wanted to play face-to-face against enemies, especially with those of them who own a better equipment than yours; covers are all around the locations, so you can get advantage of them and try to even beat someone who's clearly stronger than you are, something Destiny would never allow you to do, especially in PvP.
Game modes
Talking about PvP, here's how Tom Clancy's The Division differs from Destiny: Massive Entertainment has managed to make its game feel like it is a flow, a fluid experience where you don't have to choose what are you playing, whether it is competitive or cooperative multiplayer. This is the true element of novelty The Division introduces in comparison with Destiny.
On the contrary, Destiny has been a title splitted in several pieces, some of them you don't even like at all – for example, to me it has always been a matter of cooperative or even single user experience, as I think the player-versus-player side is extremely unbalanced and I had a bad time all the way while trying to embark on it. For a time this scheme, very classic and not surprising at all to come from the Halo developer, has worked pretty well but now, with the lack of updates, it is showing all of the limits it currently has.
Graphics
Despite being a good looking game, Destiny shows all the time it was a title thought and born as a multi-platform, cross-generational title. Bungie was pretty good, as usual, in don't making that so evident, as they have a team of artists every team in the video games industry could only dream about – but the thing is real and we all know that.
With Tom Clancy's The Division, just like it did from Assassin's Creed Unity, Ubisoft has been brave enough not to care about old gen consoles and focus on Xbox One, PC and PlayStation 4. The Division is a victim of the "downgrade" stuff we have been witnessing for a while when looking at games being announced and presented with PC-powered gameplay videos, that's true. But it looks gorgeous still now that it has been a bit toned down if compared to the early days.
Story
One point where Destiny actually failed, incredibly enough, was story. Bungie was great to create the box, but forgot to put some good stuff in it, and this went on until The Taken King released and added some story based content in this amazingly well crafted universe. Hopefully, that additional content lets us think the Seattle developer has learnt the lesson and will take it into account next time, whether they do another expansion or Destiny 2.
On the other hand, Tom Clancy's The Division seems to be more practical when it comes to story – there's a virus transmitted via banknotes, there's a city, New York (Manhattan, to be precise) which is depicted with a huge degree of visual fidelity; you always know what is happening and that's part of the Tom Clancy's realism we've talked about a few lines ago. We'll have to wait and see if this is enough to build up a good massive multiplayer experience with high level story-based content: our fingers are crossed.