Top 14 Most Anticipated Games of 2013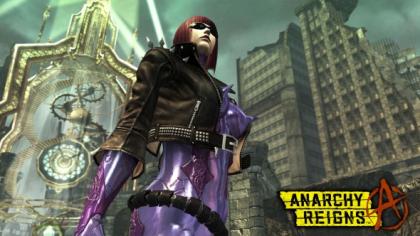 Year 2013 is just around a corner, only a handful of days is left for its arrival. We will see release of some interesting games in 2013, and we would like to present a list of 14 Most Anticipated Games of 2013. Did we missed out on anything?, if yes then let us know in the comment section below.
14: Ni No Kuni
Ni no Kuni: Wrath of the White Witch is an epic tale of a young boy, Oliver, who embarks on a journey to become a master magician and bring back his dead mother from the parallel world of Ni no Kuni. Along the way he encounters some extraordinary characters, many of whom become helpful allies. They guide Oliver as he explores the vast world and learns the magical skills that will make him strong enough to face his most deadly foes, and ultimately survive an encounter with the White Witch herself.
The world of Ni no Kuni actually runs parallel to the real world. Players will be able to travel between the two. Characters who appear in one world appear in the other as well, but with different roles in this unique RPG experience.
13: DmC Devil May Cry
Devil May Cry brand new tears — DmC reinvents Capcom's classic action franchise to explore new frontiers with the series. The "Devil May Cry DNA" of stylish action, rewarding combat and a brash, smart-talking protagonist all remains; however, it has now injected with a dark and brutal gameplay that promises to redefine the franchise.
The Dante of DmC is a young man who has no respect for authority or society in general. Dante knows that he is not human, but also that he is not like the demons that have tormented him throughout his life. Caught between worlds, he feels like an outcast. He is now discovering and coming to terms with what it means to be the child of a demon and an angel. This split personality has a real impact on gameplay with Dante being able to call upon angel and demon abilities at will, transforming his Rebellion sword on the fly to dramatically affect both combat and movement.
12: Metal Gear Rising: Revengeance
Developed through a partnership with Platinum Games and Kojima Productions, Metal Gear Rising: Revengeance pits cyborg against cyborg in battle that blazes past every human limit!
The main character, Raiden, was once feared as the child soldier "Jack the Ripper" on the front lines of the First Liberian Civil War. Now, his combat mastery is channeled through a cyborg body as the strikes from his high-frequency blade slice even massive assault drones in two. Raiden is contracted for VIP protection, military training and other duties by PMSCs (Private Military and Security Companies) in a developing country piecing itself back together after a bloody civil war. Little does he know that the stage is set for a clash with an enigmatic force of countless cyborgs.
11: Splinter Cell: Blacklist
The United States has a military presence in two thirds of countries around the world. A group of 12 have had enough and initiate a terror ultimatum called the Blacklist — a deadly countdown of escalating terrorist attacks on U.S. interests. Sam Fisher is the leader of the newly formed 4th Echelon unit: a clandestine unit that answers solely to the President of the United States. Sam and his team must hunt down these terrorists by any means necessary, and stop the Blacklist countdown before it reaches zero.
Unleash the power of the most lethal agent to ever exist. You've been given the ultimate freedom to protect innocents against the Blacklist terror attacks known as — the freedom to use limitless force, to break every law, and to become the globe's deadliest operative. If you succeed, the President of the United States will deny you exist. If you fail, millions will die.
10: Anarchy Reigns
ANARCHY REIGNS is a heavy-hitting, action packed multiplayer brawler that puts players in the middle of the battle simultaneously. The game includes a diverse range of multiplayer modes to provide players with different challenges, including Tag Team battles and Battle Royal, where players can challenge others in a full-on fight for victory.
9: StarCraft II Heart of the Swarm
The long-awaited return of StarCraft has been rumored for years, and now is finally official — Blizzard officially announced on May 19, 2007 the sequel to its incredible strategy title Starcraft.
Designed to be the ultimate competitive real-time strategy game, StarCraft II features the return of the Protoss, Terran, and Zerg races, overhauled and re-imagined with Blizzard's signature approach to game balance. Each race will be further distinguished from the others, with several new units and new gameplay mechanics, as well as new abilities for some of the classic StarCraft units that will be making a reappearance in the game. StarCraft II also featurse a custom 3D-graphics engine with realistic physics and the ability to render several large, highly detailed units and massive armies on-screen simultaneously.
Each chapter of Starcraft II focuses on a specific faction of the Starcraft war. By splitting the game, players will access more story content, more characters, and more customization as the explore each side of the conflict.
8: God of War: Ascension
God of War: Ascension returns players to the storyline of the epic God of War franchise. Join Kratos as he seeks freedom, redemption and the clarity to avenge his family. Or seek your own glory in epic 8-player mutliplayer battles.
7: Tomb Raider
Tomb Raider delivers an intense and gritty story of the origins of Lara Croft and her ascent from frightened young woman to hardened survivor, armed with only raw instincts and the physical ability to push beyond the limits of human endurance.
Superb physics-based gameplay is paired with a heart-pounding narrative in Lara's most personal, character-defining adventure to date.
6: Crysis 3
The hunted becomes the hunter in the CryEngine-powered open-world shooter Crysis 3! Players take on the role of 'Prophet' as he returns to New York in the year in 2047, only to discover that the city has been encased in a Nanodome created by the corrupt Cell Corporation. The New York City Liberty Dome is a veritable urban rainforest teeming with overgrown trees, dense swamplands and raging rivers. Within the Liberty Dome, seven distinct and treacherous environments become known as the Seven Wonders. This dangerous new world demands advanced weapons and tactics. Prophet will utilize a lethal composite bow, an enhanced Nanosuit and devastating alien tech to become the deadliest hunter on the planet.
Prophet is on a revenge mission after uncovering the truth behind Cell Corporation's motives for building the quarantined Nanodomes. The citizens were told that the giant citywide structures were resurrected to protect the population and to cleanse these metropolises of the remnants of Ceph forces. In reality, the Nanodomes are CELL's covert attempt at a land and technology grab in their quest for global domination. With Alien Ceph lurking around every corner and human enemies on the attack, nobody is safe in the path of vengeance. Everyone is a target in Prophet's quest for retribution.
5: BioShock Infinite
Welcome to the city of Columbia. Floating amongst the clouds, cruising far above sea level, this is a place unlike any you've ever seen. Please enjoy your voyage…
The third game in the popular Bioshock series, BioShock Infinite breaks away from the underwater setting of the first two games to take players into a floating city held aloft by dirigibles. The game is set in 1912. You play as Booker DeWitt, a disgraced former private detective who's picked up a new case. Your goal is to find Elizabeth, a young woman who's gone missing and return her unharmed.
The only problem is that she's being kept on this flying city. Columbia was once a symbol of America's success as a nation, floating around the world as a traveling World's Fair, a marvel of human innovation. But strange things have happened since Columbia's unveiling in 1900, and now the city has disappeared into the clouds. DeWitt knows how to find it, but over the years stories have been told about Columbia having unlawful heavy armament and deranged citizenry. Do not expect this to be a pleasure cruise.
4: Beyond Two Souls
From the makers of the award-winning Heavy Rain™ comes a unique, psychological action thriller. Featuring a brand-new game engine, a compelling, original story, and a top-notch Hollywood cast; Beyond: Two Souls offers a sophisticated, technologically advanced, immersive gaming experience on PlayStation 3.
Live the remarkable life of Jodie Holmes, a young woman who possesses supernatural powers through a psychic link to an invisible entity. Experience the most striking moments of Jodie's life as your actions and decisions determine her fate. As she traverses the globe, Jodie will face incredible challenges against a backdrop of emotionally-charged events never before seen in a video game.
3: The Last of Us
Survive an apocalypse on Earth in The Last of Us, a PlayStation 3-exclusive title by Naughty Dog. Here, you will find abandoned cities reclaimed by nature. Here is a population decimated by a modern plague. Here, there are only survivors killing each other for food, weapons, or whatever they can get their hands on. Here, you find no hope.
Joel, a brutal survivor, and Ellie, a brave young teenage girl who is wise beyond her years, must work together if they hope to survive their journey across the US.
2: Watch Dogs
Watch Dogs is a ground-breaking open-world action-adventure game called designed by a team comprised of industry veterans from blockbuster franchises like Assassin's Creed, Rainbow 6 and Far Cry.
Watch Dogs blends cutting-edge technologies and sophisticated game design into a realistic and living open world where players must use any means at their disposal to take down a corrupt system.
1: GTA V
Trouble taps on your window again with this next chapter in the Grand Theft Auto universe, set in the city of Los Santos and its surrounding hills, countryside and beaches.
A bold new direction in open-world freedom, storytelling, mission-based gameplay and online multiplayer, Grand Theft Auto V focuses on the pursuit of the almighty dollar in a re-imagined, present-day Southern California.