The year 2016 is nearly over and it has been a year filled with excitement for gamers. With ton of AAA titles released, gamers must have been over burdened with the load of playing through all of those games. But, not all of the games which seemed promising were good, but most of them were amusing to play . So, here are our top 5 selections of games which were an instant hit and were critically acclaimed both by critics and gamers alike.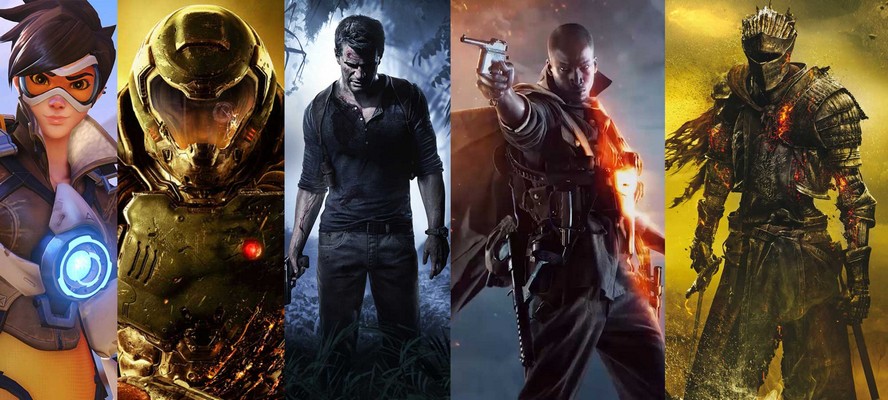 1. OVERWATCH (PC, PS4, XBOX ONE)
A game that is easy to learn, has colourful and fun to play heroes and is a lot of fun to play. Blizzard Entertainment's masterpiece is no doubt the top game of the year. You take on the role of a hero, with abilities which suit your play style and dash into the map with your teammates. Whether you want to freeze your enemies or snipe them from the roof or you just want to kill them with your music beats, Overwatch has you covered. This game is pure fun.
2. DOOM (PC, PS4, XBOX ONE).
Shoot hell in the face. Id Software's iconic DOOM franchise reboot DOOM(2016) is one hell of a game to play. With its fast-paced action, a variety of weapons, and intense blood and gore, Id software has made a game which you never get bored of. Along with an action-packed campaign, you get multiplayer and snap maps game modes too.
3. UNCHARTED 4 (PS4).
An epic conclusion to an epic franchise. Uncharted 4 is easily one of the best games available on PS4 . The game is simply spectacular, with top-notch graphics and a beautiful linear narrative. You take on the role of Nathan Drake and dive into his thrilling adventures. This game is a proof that linear narrative games are still the boss in the gaming industry.
4. BATTLEFIELD 1 (PC, PS4, XBOX ONE)
Ignoring the misleading title, Battlefield 1 was, in fact, the biggest game release of 2016. Even if you are not a Battlefield series fan, you will definitely become one if you play BF1. Realistic graphics, intuitive gameplay, and hilarious glitches are what makes a good battlefield game nowadays. Battlefield 1 is a complete package with huge multiplayer maps which gives you the feeling that you are in a battleground and a good single player campaign with multiple story lines.
5. DARK SOULS III (PC, PS4, XBOX ONE)
Dark Souls 3 was a deserving end to the beloved Souls series which started, back in 2009 and redefined the action RPG genre. Dark Souls 3 proves that games are not just about multiplayer and killing the enemy, it's much deeper than that. The story mode in a game matters a lot too.
Do you agree with the list above? Share your opinion with us in the comment section below. Also, here is our list of 5 Worst Games of 2016.