5 Budget to Best 4K HDR Gaming TV for Xbox One X
The era of 4K gaming has arrived, consoles are already in a tug-of- war to achieve the best 4K gaming quality. Microsoft recently at E3 2017 revealed a price for its most powerful console yet, Xbox One X in terms of hardware specs, and assured that this console is the true power of native 4K. But it mostly relies on the game we see, the developers are trying to push their games to stand on Ultra HD grounds. Sony on the other side had this feature on PS4 Pro that uses Checkerboard to reach 4K. Xbox One X also shares the same tech and dynamically adjusts the screen resolution to achieve the resolution. Anyhow it is not noticeable, what matter is to consider a decent big 4K TV/Monitor screen to enjoy immersive gaming.
The next big thing after having a console is to choose the right output screen, a TV that can simply reflect the 4K performance in real-time. So here we will try to consider a few models, which can fit on the 4K gaming platform and offer you a life-like graphic quality on Xbox One X. Our article targets the model under three categories, first is Budget 4K TV where we took a few models which are low on cost but big on features, next recommended where price matters less but the output is everything and finally the best ones which have no competition. If you had pre-ordered Xbox One X and hunting down a good 4K Ultra HD TV, check out the list below and do share your views in the comment section below.
Points to consider if you plan to buy any other model:
Anyhow you will be spending a good amount for 4K, try to go for Smart TV, the inbuilt app's, internet support, etc will offer you additional features.
Budget 4K HDR Gaming TV for Xbox One X: $500-$700:
It's all about money in this part, where price with features matter at the same time. Xbox One X itself cost $500, so adding a TV under this budget will not be heavy on your pocket. There are lower budget models but we prefer to start from $500, going below that just like shooting an arrow in dark. The price range of $500 to $700 gives a nice stretch where we can add in some models with low/high features. You can expect a TV size of 55inch, 49inch, 43inch a 40inch under the price ratio.
TCL 55P607 55-Inch LED TV (2017 Model):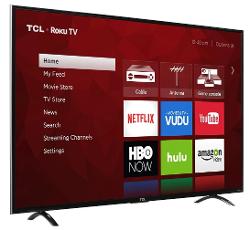 This is the first model we consider under the budget due to its feature. The model cost $649.99 on Amazon, but with long shipping time. It is a Smart–TV with streaming channel support via Roku TV. It offers a 4K Ultra HD picture with Dolby Vision HDR. The max refresh rate is 120Hz. This TV has some smart features like a simple Roku interface to operate, you can adjust the TV settings through a Smartphone App. The standard remote has a headphone jack that supports voice search and private listening. This model can play a decent role in offering you good Ultra HD output for games, though the settings and tweaks will require some effort that can be done easily on a mobile phone. Below are the connectivity options.
3x HDMI
1xUSB
RF
Composite
Headphone Jack
Optical Audio Out
Ethernet
Buy Now: TCL 55P607 55-Inch LED TV at Amazon
LG 55UJ6300 55-Inch LED TV (2017):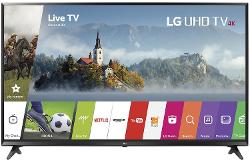 The model comes in 43inch, 49inch, 55inch and 65inch model. Among which 55inch seems to be a decent enough at a cost of $646.99 on Amazon. It is also a Smart TV powered by webOS 3.5. This model is good, but don't expect much from it in terms of black uniformity. Otherwise, the model is pretty decent in giving a 4K HDR output. The TV lacks a good sound compared to above model. There is another model by Sony which is a bit costlier compared to the LG model. It has plus point over design, better picture quality and it has Android with Google Cast and Google Play Support. The model is XBR55X700D. This model features a screen size of 55inch. We recommend you to have a look on this one if you are expecting a bit more in terms of audio/visual quality. Below are LG connectivity features.
3x HDMI,
2x USB
1x RF
1x Component
1x Composite
1x Ethernet
1 Optical
Buy Now: LG 55UJ6300 55-Inch LED TV at Amazon
Recommended 4K HDR Gaming TV for Xbox One X: $1000-$1500
Now we move to a bit costly part where features matter more over price. The price range is higher here, and so the quality. The models under this range will deliver bigger screen size, better design, and features. There are two best models we picked that can be part of your home 4K gaming environment.
Sony X850E 65inch (2017) LED TV: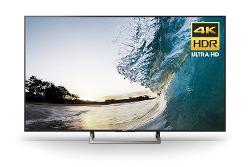 This Smart LED TV gives a whopping 65inch screen size with an ultra slim design. Costing $1600 approx, the model features 4K High Dynamic Range backed by 4K HDR Processor X1 processor and Triluminos Display. Along with wifi you also get Bluetooth connectivity where you can use your keyboard mouse for comfortable control. A Dolby audio powered speakers with an Android OS and 16GB onboard storage can also feed your mobile gaming needs. The model rates good for HDR gaming.
4x HDMI
2x USB2.0
1x USB3.0
1x Component/Composite Hybrid
1x Composite
Buy Now: Sony X850E 65inch LED TV at Amazon
Sony XBR49X900E 49-Inch (2017):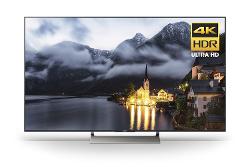 Sony has plentiful of choices in the mid-range where you can find a range of models with even features. All you need to decide what screen size you want. The model is a 49inch Smart LED TV with almost all features you will see in the above one. The display is pretty nice with ideal sound quality, there are LG and Samsung models also but giving Sony a thought is worth more under the range. You also get choices to pick a 55inch or 75inch model depending on your budget. All model features the X1 4K HDR processor that supports the resolution. They also feature standard connectivity options.
Buy Now: Sony XBR49X900E 49-Inch (2017) at Amazon
Best 4K HDR Gaming TV for Xbox One X: $2000
We are in the final range where we pick the best model right now in the market. The model gives an all round benefit of 4K HDR gaming. TV under this range is a complete pack of entertainment and features. You get the biggest size TV with the most amazing display and design in the market.
LG C7 65inch OLED TV: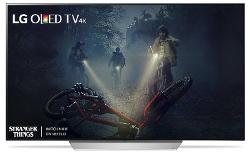 If you are ready to pay the price of $3800 approx, then why to go for LED or any regular display if there is OLED in the market. LG C7 65inch slim OLED model that comes with Cinematic Color on Perfect Black, Active HDR with Dolby Vision, Dolby Atmos, and webOS. This one is a true entertainment model and just imagine the 4K gaming output on a huge 65inch model. The price is very high right now because of the panel technology and size, the TV model also has a 55inch variant.
4x HDMI
3x USB
1x Composite In
1 Ethernet
1 Optical
1 Mini Jack
Buy Now: LG C7 65inch OLED TV at Amazon
So these are our recommendations, we tried to cover the best possible model that is available in the market right now, anyhow the price might shift a bit low or high on the basis of the seller. Most of these models are available on Amazon (Buy Links are provided for each one of them above). Xbox One X will be coming on November 7, 2017, so you have ample of time to simply plan the best model you want to pick. The release time also gives a decent window to gather the budget to buy the best model. Do share your views what do you think, which 4K TV is the best for Xbox One. If you had already bought or had any model in mind do let us know about it in the comment section below.