MGS V: The Phantom Pain Guide How to earn 4.5 million GMP within 15 mins
The Gross Military Product(GMP) is a very difficult to achieve in the Metal Gear Solid V: The Phantom Pain. We all search the shortest and easiest way to earn the GMP and progress with the Mother Base. This guide will provide the shortcut on how to earn 4.5 mil GMP within 15 mins in MGS V: The Phantom Pain.
This trick not exactly a trick, but you can call it a smart way of using the Glitch. Ok so as you progress in the game you must have unlock the Side Op 117 - 'Eliminate the Tank Unit 04', if you still haven't unlocked it you must plan other Side Ops and get it unlocked.
Once you have this mission available, you require few things to do this mission like the Stealth Camouflage, F.Ballista(D-Walker), a Raiden Outfit for running 50% faster or Cyborg Ninja Outfit for running 30% faster and Min 10000 GMP. Also, you should have your R&D and Intel Teams at Level 60, Fulton over 1000 Soldiers, Complete all missions with S-Rank for Raiden Outfit or Complete all missions for Cyborg Outfit.
Now Let Begin with the mission. Once you've landed you need to look for the Unit 04 and if you're looking for the discreet GMP, run towards the tank and extract it. So here is the glitch, you'll have to go to the location shared below where the tank is just beside the checkpoint and repeat the process by extracting the tank then run back and fourth restarting checkpoints and gaining more tanks for you to sell.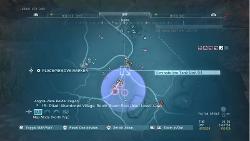 Each Tank Goes for like 100,000 GMP which is the Most Expensive vehicle in-game and you keep selling it every time you restart the checkpoint. This is the best and the quickest way possible to earn GMP in less than 15 min. Try you best and Keep Playing. Enjoy.