Where to Find Runewright Location in The Witcher 3: Hearts of Stone
Hearts of Stone is the First DLC of The Witcher 3: Wild Hunt and will be available from 13th October 2015. The newly added feature in the Witcher 3 expansion: Hearts of Stone, the Runewright which helps you to Boost your gear with runewords and glyphwords. You need to find the runewright and this Witcher 3 Guide will provide you every detail on where to find the runewright in Hearts of Stone Expansion Quest. 
As we mentioned above there is a newly added game mechanics called the Runewords which will affect the gameplay. Once Geralt finds the Runewright then he can use this powerful bonus to boost his gear with Runewords and Glyphwords. Here is where you'll Find the Runewright in Hearts of Stone quest.
Where to Find the Runewright
You need to Head east of the lake which is far northeast of Velen in Upper Mill. You need to Begin with the quest Enchanting: Start-up Costs which will lead you to the Runewright. 
Note: Level 32 is recommended to start this Quest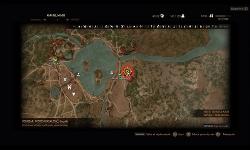 Once you reach the location shown in the map above, you'll meet a guy which will ask you to give him 5000 Crowns for new tools first and then bring a chunk of jade. Once you've collected and bring the requirements back to him, then he will offer you with the Runewright services. 
This will be the Basic services if you need to upgrade the runewords you should provide him with better tools. These tools are advanced and will set you back to 20,000 Crowns. Check the Below image for the Collection of Upgrade Runewords and Glyphwords.