How to Claim Loyalty Rewards in Call of Duty Black Ops 3
Call of Duty: Black Ops 3 release right near at hand and now its last day to claim your Call of Duty Black Ops 3 Loyalty Rewards. If you haven't claimed it already then don't worry just keep following the procedure from the below guide and it will be done in No time. Here is everything you need to know how to Claim you Loyalty Rewards in this CoD: Black Ops 3 Guide.
How to Claim The Loyalty Rewards
To Claim you Loyalty Rewards, you need to sign up for the Loyalty Program for Call of Duty Black Ops 3. The Rewards composed of exclusive background, camouflage weapons and emblems which can be used in the game. So what are you waiting for let's get started?
To Sign up for Call of Duty Black Ops 3 LOYALTY PROGRAM all you need to do is go to this LINK and sign up with your account. If you have multiple systems then you can also log in with more than one account. Check the image below to get the specific rewards.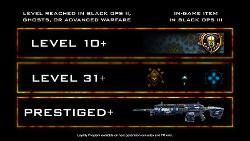 Note: Get to the maximum level in Black Ops 2 and claim your rewards until the end of the day to sign up.
Your Last day to claim your reward with you account is by November 5, 2015. If you have any doubts or questions you can shoot them below in the comment section. Enjoy your Rewards and get ready for the Action with Call Of Duty Black Ops 3 on November 9th.