Fallout 4: X-01 Power Armor Location and Walkthrough
Want to know the exact location of X-01 Power Armor in Fallout 4? The guide below gives a complete walkthrough on how to get access to X-01 Power Armor (Torso, Right Leg, Right Arm only in Fallout 4. This power armor is located at the "National Guard Training Yard", you can check out the map location and screenshots below.
X-01 Power Armor Location Walkthrough
Step 1:
This X-01 power armor is located in one of the buildings to the North of the crashed Vertibird. You have to look for the Red Metal Gate indicating "National Guard Armory". As seen in the screenshots below.
Step 2:
As soon as you enter inside, you will see 2 ghouls but this shouldn't be a much of a problem for you to take them down. There are 3 Laser tripwires attached to the right side wall, this should also not be a big problem for you as they are really bring and easy to spot. NOTE: I recommend you to take Nick Valentine as your follower since he can hack terminals for you.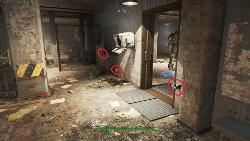 Step 3:
To open the security door, you have to hack a "Master" difficulty Terminal. Let you companion Nick Valentine take care of this. Once the security door is open, you will see the last ghoul and the X-01 Power Armor in the corner. The only sad part is that this X-01 Power Armor isn'tt a full set, there are only the MK II Torso, Right arm and leg.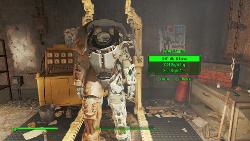 Check out the screenshots below detailing the stats of X-01 Power Armor. Now all you have to do is transfer over whatever piece of the armor that is missing and you will have a much stronger power armor. Furthermore, in the same room there are a considerable amount of tools and crates, you should give them a try.
Check out our other guide on Locations To T-45 And T-51 Power Armor and full Fallout 4 Wiki Page for more how to guides, tips and tricks and other things.