Fallout 4: Power Armor Mod Customization, Skins, Visuals and Many more
Tons of Mods are out for Fallout 4, but what we were waiting was for someone who we help us with the Power Armor visual and skin options. 'ZephyrWarrior' has finally noticed and have created the mod which will now let us fix what was lacking in the Vanilla customization. This Fallout 4 Guide will help you get your Power Armor Customized without any doubt. 
Power Armor Customization
We all have noticed that our Power Armor was lacking with visual, skins, paints options which are no more an issue. The 'ZephyrWarrior's F4 Power Armor Overhaul' Mod will fix this issue. The Link to Download this Mod is given Below.
The Changes
Below is the list of changes that will effect once you install this mod. Just make sure you always take a Backup(\Documents\My Games\Fallout4\Fallout4.ini) before making any changes with any mod.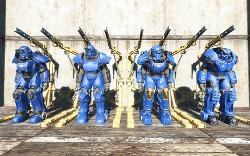 All paints are now free
Paints and materials for armor plating are now separate
Armor pieces now have different categories for mods
You can now craft the small, higher-tech power armor station
Materials have a prefix of Plating, Coating or Energy Skin
Removes hundreds of instances of useless keyword references and other nitpick to streamline the data for all power armor relevant entries.