Just Cause 3: How to Walk on Water
In Just Cause 3 there is an endless possibility for the player to explore and try new tricks. Either you can use Mods to improve your gameplay or just play with the environment to explore more about the Open world. This Guide will show you a possible trick which show you sort of how to walk on water.
This is not a Magic trick or something which you are going to perform, but a simple trick that some might already be using it. All you need to do is follow the Step by Step Process of the Guide below and you can start walking on Water. If you have any doubts then do let us know in the comments below.
How to Walk on Water
Location
This Trick can work on any other ports in the game but you can try this Location as your Start. Head towards teh Port of Capite Est, the location is shared below.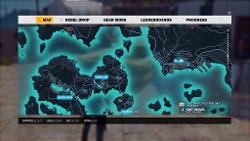 Finding Dingy
Once you locate the port search for white canisters. There will be two, but you need only one or now. Open the Canister with the help of your Grappling hook. Just Like the Images shown below.
Playing with Water
Now that you have acquired the Dinghy, place it into the water and get it will start floating. Just get on the dinghy and start walking, you will notice teh dingy will start moving as well. You can try Grappling any passing boat and it will carry you.