CoD Black Ops 3: How to get Ultra and High settings back in Graphic Options
The Game Call of Duty Black Ops 3 which was released last November is now facing some tremendous graphic issue for many players. People are complaining of the two options which are permanently disabled by Treyarch for some issue. This Black Ops 3 Guide will show you the Trick to get Ultra and High Back in Graphics Option in the game.
Players are going bonkers since the two options are disabled, first played with the downgrade of the graphics for the player with low VRAM and now the options are completely Gone. It has been noticed the players with less than 2GB VRAM can't see the Options for High and Ultra graphics.
How to Get the Ultra and High Back in Graphics Option
After the Upgrade Patch, the game detects the players configurations and accordingly keeps or removes the two options, this is understood that the developer wants the player to play the game without any issue, but what if they want to? It should completely vary from player to player how they want to play their game.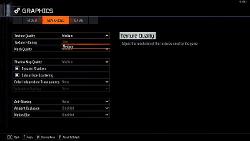 If you want the Original game setting back in the game then simply follow the steps given below and get it done in no time.
Step 1:
Open "Steam\steamapps\common\Call of Duty Black Ops III\players\config.ini" with notepad or any text editor.
Step 2:
Locate "RestrictGraphicsOptions = "1" " and change from 1 to 0
Step 3:
The Change must look like this - RestrictGraphicsOptions = "0"
Step 4:
Save and Run the Game.
Let Us know in the comments below if you agree with such changes from Treyarch or Do you want the gamer to decide what they want.