The Witness - Walkthrough, Secrets, Hints and Solutions for all Puzzles
The Witness is a 3D puzzle video game which is now available for Windows and PlayStation 4 users. It takes the player through various puzzles and adventures alone on a strange island. This game is one hell of a ride even for those who are a master at solving the puzzle. This Walkthrough Guide will show you all the hints and solutions to the many puzzles on the island.
Being a Puzzle game, there are times where the player tends to get stuck at a place or takes hours to solve a single puzzle. Here is the List of areas found on the island in The Witness. We would like to thank Toysoldier - A Steam user for sharing all the images. So without any further ado, let's begin with the exploration of the abandoned island and discover the secrets it holds.
Here is the Full Island Map image given below where you will notice the Game Mechanics which changes from area to area. This is a show with the Red Symbol which is the hint to for the tutorial of each mechanics.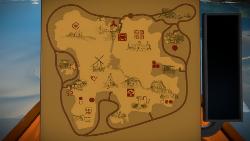 The Witness Walkthrough
Secret Location