The Witness: Walkthrough Part 12 - Green House, Color Rooms, Elevator, Laser Beam
The Green House Walkthrough in The Witness is located at the Tip of the Mountain which is just beside the Tropical Forest. This Walkthrough will show you how to solve the puzzle and get the Laser beam Activated with ease. So without any further ado, let's begin with the Walkthrough Part 12.
Walkthrough Part 12 - Green House
The Start
Here the Puzzles are very easy if you now what's the perfect hint. If you haven't figured it out yet then here is what you have to do - Separate each color into zones, but sometimes you might need to change the environment to see the real light. Let's enter the Greenhouse first, then figure out what we are informing about.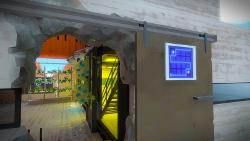 Blue Plates
Just Like we said you need to Separate each color into zones.
Yellow Room
Open the Door and head left to solve the next set of the puzzle. Follow the same trick and then check if you have got it right as we have mentioned.
Pink Room
Here if you find it tricky on what color is it then try using the panel at the right first to open the container and see the colors, then solve the puzzle.
Elevator Room
Go To each site to check what's in there for you then head towards to the Top to activate the Laser beam. 
Activating Laser Beam
Thus, we finish the Walkthrough for the Greenhouse area.