Charlie Nash Moves List, Unique Attacks, Special Moves and Critical Art in Street Fighter V
Street Fighter V is now available and with 16 fighters all set to fight with the brand new attacks and additional techniques, abilities there are few Skills which are added such as V-Skills, V-Reversals, and V-Triggers. The game also features interactive arena, showcasing special animations when a player is defeated in a certain part of the arena. Here is the complete Data for Charlie Nash and his Attacks. 
Charlie Nash - Paradoxical Avenger
Charlie Nash was first introduced in Street Fighter II and he is a strong Captain in the United States Marine Corps, and fighting for injustice. He makes his return in the Street Fighter V with his original name Nash. In this game, Charlie would be more seen ruthless to friends and enemies alike and more into an obsessive part.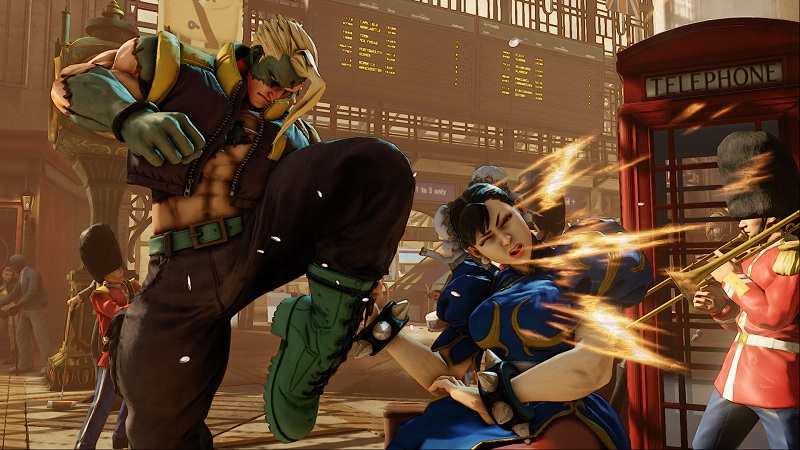 Info Card
Skills: Assassination, Stealth
Occupation: Ex-Air Force Lieutenant
Fight Style: Special Attacks with Physical Abilities

Power: 3/5
Range: 2/5
Health: 2/5
Mobility: 3/5
Technique: 4/5
Moves List
Normal Throws
Dragon Suplex (When Close to Opponent) - Forward or N + LP LK
Target Down (When Close to Opponent) - Backward + LP LK
Air Jack (In Air) - LP LK
V-Skill
 V-Trigger
Sonic Move (Hide) - HP HK
Sonic Move (Blitz Air) - Backward + HP HK
Sonic Move (Steel Air) - Forward + HP HK
V-Reversal
Sonic Move - Avoid (During Guard) - Forward + All Punches
Unique Attacks 
Knee Bazooka - Forward + LK 
Jumping Sobat - Forward + MK
Chopping Assault - Forward + MP
Step Kick - Forward + HK
Spinning Back Knuckle - Forward + HP
Side Knee Attack - Backward - MK
Rapid Punch - LP + PLAY +  MP 
Rapid Kick - LK PLAY + MK
Wind Shear - MP PLAY + LK PLAY + HP
Down Burst - Down + MP PLAY + Forward + MP
Raptor Combination - MK PLAY + HK PLAY + MK  
Special Moves
Sonic Boom - Quarter-Right + Punch
Sonic Scythe - Quarter-Left + Kick
Moonsault Slash - Quarter-Right + Kick
Tragedy Assault - Quarter-DownRight + Punch
Critical Art
Judgement Saber - Quarter-Left + Quarter-Left + Punch
Legends:
Forward -
Charge Forward -
Backward -
Charge Backward - 
All Punches -
All Kicks -
Down Right -
Down Left -
Up Right -
Up Left -
N -
LP -
MP -
HP -
LK -
MK -
HK -
Quarter-Right -
Quarter-DownRight -
Quarter-Left -
PLAY -