Laura Moves List, Unique Attacks, Special Moves and Critical Art in Street Fighter V
Laura is one of the 16 fighters in Street Fighter V and all set to fight against the brand new attacks and additional techniques, abilities there are few Skills which are added such as V-Skills, V-Reversals, and V-Triggers. The game also features interactive arena, showcasing special animations when a player is defeated in a certain part of the arena. Here is the complete Data for Laura and her Attacks. 
Image REMOVED ​
Laura Matsuda  - Just Gotta Dance
Laura is making her debut in Street Fighter V and she is  the third Brazilian fighter to appear in the main game series. She is an energetic personality who enjoys thrills and very easy to befriend too. She learns the original martial art inspired by Brazilian Jiu-Jitsu known as "Matsuda Jiu-Jitsu and her techniques are grabbing her opponent and breaking their leg while another involves slamming the opponent to the ground and breaking their arm.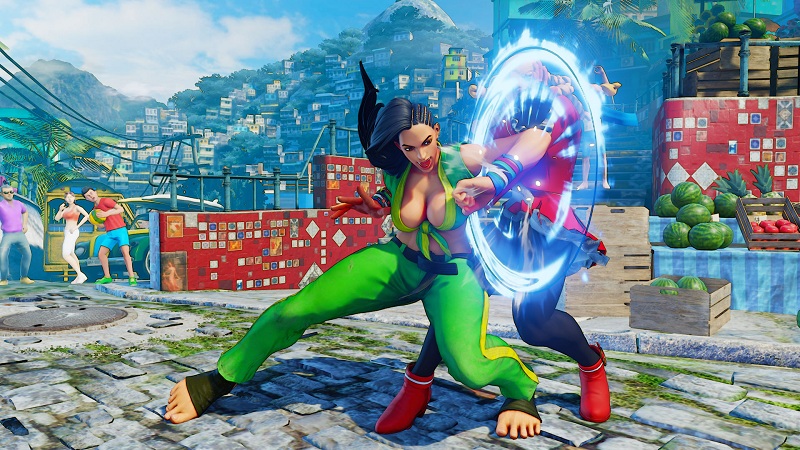 Info Card
Skills: Producing Static Electricity
Occupation: Practicing of Matsuda Jujitsu
Fight Style: Matsuda Jujitsu

Power: 3/5
Range: 1/5
Health: 3/5
Mobility: 4/5
Technique: 3/5
Moves List
Normal Throws        
Seoi Throw - (CLOSE TO OPPONENT)  Forward or N  + LP LK
Pullback Hold - (CLOSE TO OPPONENT)  Back + LP LK
V-Skill    
Volty Line - MP + MK
Linear Movement (Avante) - Forward + MP + MK (HOLD BUTTONS TO ATTACK)
Linear Movement (Esquiva) - Backward + MP + MK (HOLD BUTTONS TO ATTACK)
Linear Movement (Finta) - Backward + MP + MK PLAY + MP + MK(HOLD BUTTONS TO ATTACK)
V-Trigger
V-Reversal
Double Slap(DURING GUARD) Forward + All Punches
Unique Attacks
Step Elbow - Forward + HP
Twist Barrage - Forward + HP PLAY + HP
Dual Crash - MP PLAY + MK
Special Moves
Bolt Charge - Quarter-Right + Punch
Split River - Quarter-Right + MP PLAY + Punch
Rodeo Break - Quarter-Right + MP PLAY + Kick
Thunder Clap - Quarter-Left + Punch (HOLD BUTTONS TO POWER UP)
Sunset Wheel - Half Down Left + Kick
Critical Art
Inazuma Spin Hold - Quarter-Right + Quarter-Right + Kick
Legends:
Forward -
Charge Forward -
Backward -
Charge Backward - 
All Punches -
All Kicks -
Down Right -
Down Left -
Up Right -
Up Left -
N -
LP -
MP -
HP -
LK -
MK -
HK -
Quarter-Right -
Quarter-DownRight -
Quarter-Left -
PLAY -