Far Cry Primal Walkthrough Part 5 - Trapped, Grappling Hook and Blood of Oros
After Getting Jayma to join our village, it's time to bring another key member called Wogah. He is a Crafter and can help you out with new crafting skills, upgrade your carry bags and belts, but something is going strange, you cannot just visit and bring him back, he is one tough cookie so let's see what happens when we meet Wogah in this Walkthrough.
Wogah The Crafter
His location on the map is Towards the East, you can mark him on your Main map get going to find him just like we did from Jayma. He is one of the Key characters you need in your village, but as you enter his cave he has set up a trap for us and call himself the last Wenja, so let's escape the Cave see what there for us inside.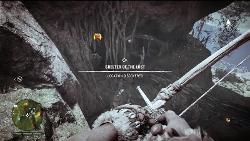 Trapped
The Mission will start as soon as the cutscene is over, you should be happy that you came here as you are going to get the Grappling Hook today my friend. Turn on your hunter vision and light up the Yellow part to make your way inside the Cave.
Escape the Cave
Once you get down to start searching for the loot from the dead bodies and continue heading inside the cave.  Be careful with the Jaguars as they are all over the cave. Follow the Blood trail which will straight away take you to the Grappling Hook(on Jaguar's dead body). Learn the basic and get the hell out of the Cave.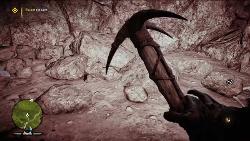 Start climbing upwards and make your way towards the exit. You will come near one part where you need to head down and 3 Jaguars are waiting for you, so be ready with your clubs and attack them at once. Finally, you will get your way out of the Cave and go meet Wogah again to tell him that you are a Wenja and he will trust you and offer to help you and your people if you find the Blood of Oros.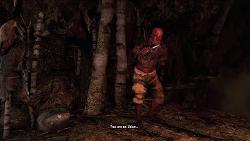 Blood of Oros
Search for Blood of Oros Rocks
As per Wogah, you need to find The Dark Blue colored crystal rock which he calls as Blood of Oros from him and then he shall agree to Join you and your Village. So Let's head towards the marked location and start searching for the rocks by examining the old Wenja Standing Stones.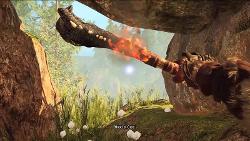 Investigate the Sparkling location
Now that we have located the right Wenja Rocks, you have to proceed your investigation in the newly marked location and see what's the sparkling location has to offer. You can either climb up of the Mountian to see and mark your enemies or directly head inside via river and kill them all at once. Once you get all Four Rocks(Blood or Oros) Wogah will join your village and you will unlock the Trophy - Mister Fix-It. Thus completing the mission and the Walkthrough.