The Division: Best Dark Zone Map Showing DivTech, Lootcrates and Bosses
A Reddit user tGryffin has shared an update Tom Clancy's The Division Dark Zone map showcasing the exact location of all the DivTech, Loot crates and the Bosses. You can check out the map below. This map helped me out a lot especially for determining how many more Div Techs are in DZ05/06.
According to the details shared by other Reddit users in the comment section, this map still misses few points here and there and tGryffin has acknowledged it and promised to correct them and release a new map. Stay tuned as we will update this post as soon as more new details are provided.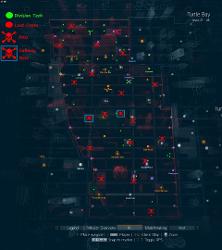 In addition to this, I also came across an amazing Tom Clancy's The Division video detailing tech, solo farm route, 25 chests in just 12 minutes.
You can check out our full Tom Clancy's The Division Wiki featuring all how to guides, tips and tricks, walkthrough and many other things.