Dark Souls III Error Guide: Fix For Crash At First Bonfire, Not Recognize DS4 Controller, Long Unpacking Time
Dark Souls III is finally out on retail shelves in North America and Europe. Sadly, the launch is not as smooth as everyone of us expected and players are reporting some technical issues regarding FPS, Controller Support in the PC version of the Dark Souls III. In this guide I am going to list of solutions and fixes for all the Dark Souls III PC version launch issues. Before starting with the guide, I want you to first check your PC specs and compare it with the Minimum and Recommended PC system requirements of Dark Souls III in order to find out whether or not your PC is capable of running the game.
Minimum Requirements:
Windows 7 SP1 64bit, Windows 8.1 64bit Windows 10 64bit
Intel Core i3-2100 / AMD FX-6300
4GB RAM
NVIDIA GeForce GTX 750 Ti / ATI Radeon HD 7950
DX11
Broadband Internet connection
25GB HDD Space
DirectX 11 sound device
Recommended Requirements:
Windows 7 SP1 64bit, Windows 8.1 64bit Windows 10 64bit
Intel Core i7-3770 / AMD FX-8350
8GB RAM
NVIDIA GeForce GTX 970 / ATI Radeon R9 series
DirectX: Version 11
Broadband Internet connection
25GB HDD Space
DirectX 11 sound device
1: Dark Souls III Long Unpacking Time
In order to fix this issue, all you need to do is PAUSE AND UNPAUSE THE UNPACK. Go to the download tab and pause the 'download', wait for it to actually stop, then unpause it.
2: Crashing At Bonfires:
According to the report coming out from users on Reddit, Dark Souls III crashing at Bonfires can be fixed by setting "Lighting" to "Low", as shown in the screenshot below.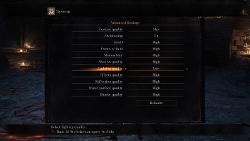 If this fix did not work then try of this second one:
Try using Knight Class. Start a new character that is a Knight and the game will not crash at the first bonfire. Just killed first boss and rest at his fire, no crashes. Enjoy.
Third Fix:
Take off any shield you have equiped and try running to the bonfire again. This fixed it for me.
3: Dark Souls III Can't Recognize DualShock 4 Controller:
Many players are reporting Dark Souls III compatibility issue with PlayStation 4's DualShock 4 controller. This might be due to the fact that the game is not recognizing the controller. The fix for this is to go to the DS4 Window settings. Tick the first option, "Hide DS4 Controller". Launch the game.
4: Can't Summon Phantom Issue:
Whenever I try to summon someone I get an error message which reads "Unable To Summon Phantom". This is because someone else got to that Phantom before you. In order to fix this issue you need to get near a boss door and Spam as many summons as you can. You will eventually be able to summon a phantom.
Update 1:
Fix For Dark Souls III Running On Win10 and Having Issue With DSFix
For PC gamers running Dark Souls III on Win10, the game uses default resolution in Borderless window mode, but uses the resolution you set in fullscreen mode. Texture replacers aren't replacing textures and the game actually runs at 60FPS. Thankfully, there is a fix available: You just have to set DARKSOULS.exe to Windows 7 compatibility mode.
If that does not work out then set the following parameters as mentioned below:
borderlessFullscreen 1
forceWindowed 1 (at the very bottom of the ini)
forceFullscreen 0
ingame: Windowed (you could also try Fullscreen setting ingame, just test it out)
Also, manually edit the DarkSouls.ini file located under [C:\Users\YOURNAME\AppData\Local\NBGI\DarkSouls] to use your specific resolution in windowed mode and make the file as read-only.