Where And How To Unlock MIDA Multi-Tool In Destiny 2 - Perks And Lore
MIDA Multi-Tool is the Exotic Weapon in Destiny 2, yes - the same weapon that boosts move speed. It gives player some additional benefits if when equipped with MIDA Mini-Tool, a legendary submachine gun, in the Energy Weapon slot. In this guide we are going to show you how to Unlock or Get Mida Multi-Tool and MIDA Mini-Tool in Destiny 2. The process is a bit long so make sure that you have some patience.
Steps To Unlock Mida Multi-Tool
Step 1: You will have to complete the Campaign and get to 20th Level. Now get to European Dead Zone and complete the Enhance quest, it will give you MIDA Mini-Tool, the Legendary submachine gun, from Devrim Kay. NOTE: One important thing to note here: make sure you have have several slots free and available in the inventory as many are facing the problem of losing the Mida Mini-tool.
Step 2: Now get to the Tower and talk to the Gunsmith, Banshee-44 and accept the Sight, Shoot and Repeat Quest. Make use of the Scout Rifle to make 50 precious kills. And then make use of the Scout Rifle and kill 25 enemies without reloading (Recommended enemy to kill Thrall).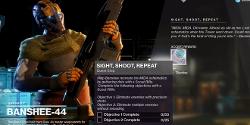 Step 3: Have a word with the Gunsmith, Banshee-44 again and accept the Hood Quest. You will have to Dismantle 5 rare (Blue) or legendary (Purple) Scout Rifles. (Which are usually been acquired during the regular play and keep them in the Vault.)
Step 4: Now again have a word with the Gunsmith,Banshee-44. Then Accept The Fall Kill You Quest.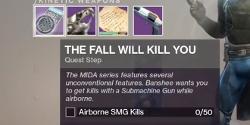 Step 5: Now Kill 50 enemies with a submachine Gun while Airborne.
Step 6: Now again talk with the Gunsmith, Banshee-44 for the last time, to get the Exotic Gun.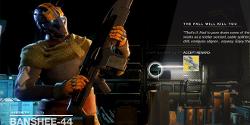 Perks For Mida Multi-Tool
MIDA Multi-Tool Perk: Weapon helps in boosting the Movement Speed.
Corkscrew Rifling: It helps in Balancing the Barrel.
High-Caliber Rounds: When you fire with this weapon it helps in passing back the enemy. 
MIDA Radar: With the help of this The Radar will stay steady, when one is trying to aim downwards.
Hand-Laid Stock: It helps in increasing the stability and handling speed.
MIDA Multi-Tool Lore
Zavala — A waste of time, as always. I won't confiscate the Red Death engrams, I won't roll back the SUROS Crucible firmware to its "original" (preposterously inflated) state. And I won't conduct any more "forensic inquiries" like this!
My Redjacks unlocked your MIDA weapon's logs; simple enough once we used the rifle's own electronic warfare tools. The rifle was designed by primitive AI and manufactured for use by a "revolutionary government" named MIDA. Mars Is Damnably Arid, perhaps.
Guerilla war suits these versatile weapons. But Rahool insists his records never hinted at a rebel group named MIDA. According to the rifle's cached messages, MIDA's brief reign killed a full ten percent of the Martian people.
I gave Lakshmi the weapon for her take. She insinuates that it came from another timeline, perhaps through Golden Age experiments. That means it's outside your jurisdiction to ban. — Shaxx
That's all we have about MIDA Multi-Tool -Destiny 2 Unlock guide. If you encounter any issue then do let us know we will try our level best to solve it. And feel free to read our Destiny 2 Wiki Guide for full walkthrough and more tips on the game.