Red Dead Redemption 2 Duels Guide | Tips To Win Duel Easily
One of the best gameplay element in Red Dead Redemption 2 is Dueling. It was present in the first two games of the series as well: Red Dead Revolver and Red Dead Redemption. In this Red Dead Redemption 2 duels guide, we have listed steps to start a duel, tips to win a duel, and what rewards you unlock after winning the duels. So let's get started.
​
How To Start Duels in Red Dead Redemption 2
In duels, you stand just a few meters away from your opponent. To win the duel, you just have to take out your weapon and shoot your opponent. You have to be really quick because if your opponent manages to do this even a fraction of a second early then you won't survive.
There are multiple ways to start duels in Red Dead Redemption 2. If you want to be the reason to start the duels then go for a Poker Game and cheat in it. If you get caught cheating in a Poker Game, the other Poker players might challenge you for a duel. Any outlaws or vigilantes can also challenge you for a duel. While passing through a settlement or town, any random town guy can challenge you for a duel. There is also a slight chance that you will start a duel with a random NPC sitting on a horse - all you have to do is knock him over from the horseback.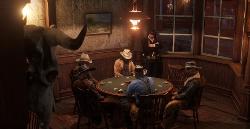 Rules You Have To Follow In Duels - RDR 2
2 Weapon Types Allowed: In Duels, you are allowed to use Revolvers or Pistols to take down your opponent.
Pistols or Revolvers Is Your Friend: You will go against your opponents in a one-on-one battle, you can't take your backup or friend in the field. You Pistols and Revolvers are your only companion in the duel.
Kill or Disarm: The duel will end if one of the two conditions is met: any one player is disarmed or killed. The option to disarm or kill a player depends on you - the choice will be yours.
Tips To Win A Duel In Red Dead Redemption 2
Make use of the Dead Eye Ability: The higher the level of your Dead Eye ability the better result you will get while using it in the duel. You can check out our dedicated guide of Dead Eye And What All 5 Levels Of Dead Eye Do. Try to level up your Dead Eye as soon as possible.
If you decide to win the duel by disarming your opponent then try to target your opponents shooting arm.
Red Dead Redemption 2 is out now on PlayStation 4 and Xbox One. Our Wiki Page for the game will go live soon, it will carry a link for the all missions walkthrough, tips and tricks, cheats, collectibles location, and many other things. So stay tuned.
For more updates on the game do check our Red Dead Redemption 2 Wiki guide.