Controls, Combat & Movements Tips - Super Smash Bros Ultimate
Super Smash Bros Ultimate Control Scheme is based on three controller's configuration, Pro Controller/Dual Joy-Con, Sideways Joy-Con and Gamecube controllers. In this control guide you can learn settings of each layout and customize them as per your will. Also the guide has tips on Attack, Combat and Moves that help you to perform better in battles.
Super Smash Bros Control Settings For Pro Controller, Joy-Con & GameCube
You can use three types of controls for playing Super Smash Bros on Nintendo Switch. The first set of controls below is Dual Joy-Con, Pro Controller, second one is for Sideways Joy-Con and the last is for GameCube Controller. To verify the controls from the side menu in the game go to Options > Controls. You can have three control profiles.
Pro Controller / Dual Joy-Con Controls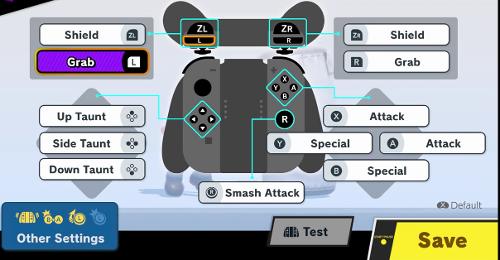 In the above image you can check out all the buttons and associated actions like attacks or defense you can perform in the game. To customize any action just select the key and you get four options to choose – ATTACK, SPECIAL, JUMP, SHIELD AND GRAB. This is static in almost all types of controllers, so you can just customize the control the way you want.
Controls List:
ZL - SHIELD
L - GRAB
LEFT JOY-CON UP ARROW DIRECTION - UP TAUNT
LEFT JOY-CON LEFT & RIGHT ARROW DIRECTION - SIDE TAUNT
LEFT JOY-CON DOWN ARROW DIRECTION - DOWN TAUNT
ZR - SHIELD 
R - GRAB
X/Y/B/B - ATTACK & SPECIAL (MORE SETTINGS - JUMP/SHIELD/GRAB)
R - SMASH ATTACK
Sideways Joy-Con Controls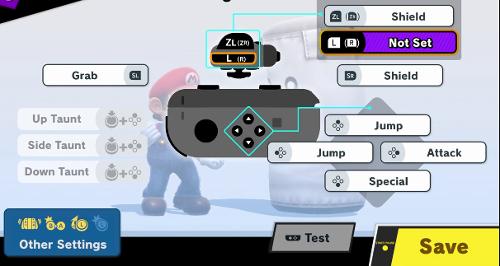 You can use a single Joy-Con in sideways to play Super Smash Bros. It is not very convenient compared playing with both hands, because you get limited things to do. The direction buttons are used for movements and there are few buttons to handle Shield and Grab.
Controls List:
SL - GRAB
ZL (ZR) - AVAILABLE FOR CUSTOMIZE CONTROL
L (R) - AVAILABLE FOR CUSTOMIZE CONTROL
SR - SHIELD
JOY-CON UP ARROW DIRECTION - JUMP
JOY-CON LEFT ARROW DIRECTION - JUMP
JOY-CON UP RIGHT ARROW DIRECTION - ATTACK
JOY-CON UP DOWN ARROW DIRECTION - SPECIAL
GameCube Controller: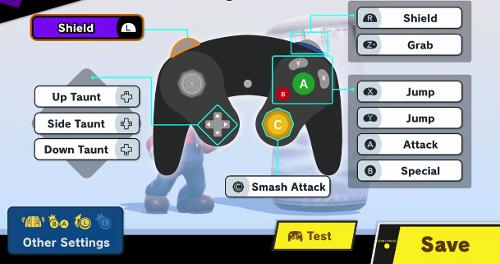 Super Smash Bros also had a dedicated section for GameCube Controller, you can play with default settings or customize it according to your convenient.
Controls List:
L TRIGGER  - SHIELD
D-PAD UP ARROW - UP TAUNT
D-PAD LEFT & RIGHT ARROW - SIDE TAUNT
D-PAD DOWN ARROW - DOWN TAUNT
R TRIGGER - SHIELD
Z - GRAB
X & Y - JUMP
A - ATTACK
B - SPECIAL
C-STICK - SMASH ATTACK
Each section has an Other Settings button that allows you to modify the following settings:
RUMBLE - ON/OFF
SMASH ATTACK - ON/OFF
STICK JUMP - ON/OFF
STICK SENSITIVITY – LOW/NORMAL/HIGH
Super Smash Bros Attacks & Movements Tips
Sometime it can be confusing to use the right attack or movement unless you are really good in the controls. It is best to go with dual hand controls that provide a bigger area to play. Special moves are also pretty important to deliver a final attack to defeat the opponent. Here are some tips associated with controls and movements in Super Smash Bros.
Learn the combos, the control layout is common for all fighters, but the way of attack differs in some way. For example you can perform aerial attack by A+Jump button. To successfully block an attack keep the Shield button in a convenient place, if you can hit on the right time then opponents attacks will have zero impact. Certain moves are experimental like few fighters can crouch, this can help you to avoid any kind of direct attack.
To nullify an aerial attack, jump over the opponents head using springboard. The opponent will fall down, also use different combos to cause more damage.  It is easier to learn the default control layout like X/Y for jump, B for Special, C-stick for Smash Attack, D-pad for taunting, Left/Right bumper for Shield and Z for grabbing. These are the standard one easy to remember, the settings are default and easier to learn.
The control section has profile you can use to create your own without disturbing the default one. Remember Super Smash Bros is more about speed and combos. The faster you can hit the keys the easier defeat others. With right combination of attack and defense will be your high point.
Among all three different Control layout Gamecube controller is the most convenient one followed by Dual Joy-Con. The sideways Joy-con is tough and limited.