How To Win Fights In Krokodilopolis Arena Easily – Assassin's Creed Origins
Krokodilopolis is a challenging arena in Assassin's Creed Origins, the place where you will be facing the gladiators. These are powerful opponents, and their attack is pretty damaging. Mostly you will be fighting a multi-phase fight. there can be 4 turns that will last around for 3 waves. By wining you will be able to unlock an elite level that will help you a lot in your quest. Facing stronger enemies reward you higher XP's. There will two events The Brothers & The Slavers you can play in the game.
How To Win Fights At Krokodilopolis Arena
The Brothers Event:
For this event it is good to get skills from the Warrior tree, you will get a lot of help in the area while playing this event. As you begin you will have to fight three waves of attackers and then you will be finally facing the main boss. Use a Sword when you start your fight. After defeating anyone in the arena you can also get their weapons. Survive the first three waves, and then you will face stronger enemies. In some wave, you will also face a lion
.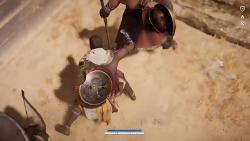 Use bows and swords on enemies who are not having the shield. They are defenseless against your attack. You can run a bit far and shoot bows o them. Then you have the sword that you can also use to kill them. You can use a shield when you are having a sword with you. In this way, you can easily counter-attack.
After dealing with all three waves, you will be facing the two brothers. Try to target them one by one. Don't indulge into fighting with both. This will be waste of time if you are fighting with both at the same time. Target one of them. When your adrenalines meter is full, attack one of them to cause maximum damage. When one is down you can then take the second one with less disturbance.
The Slaver Event: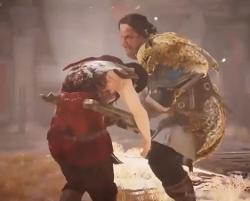 This is the second one that will unlock once you are done playing the above one. You will have a chance to raise your level and earn more XP. In this arena, you will be facing stronger enemies. You won't be able to use your sword and axe in this fight. In this the final boss you will be fighting in 3 waves is Slaver. As you have weapons with you try to get an axe, this is slow but it can cause a very high damage. The AXE is really good in breaking shields. To defeat this boss fast use Overpower attacks, as it does not uses a shield, you can hit him easily. At the end, you can get a weapon if you choose option Kill.
After playing both the events you can gather a good amount of XP and also weapons in the end. Do play this level to test your fight ability and earn new rewards. For more tips on the game, you can read our Assassin's Creed Origins Wiki Guide.