Chapter 4: Divinity Church Walkthrough – Batman: The Enemy Within Episode 1 The Enigma
In Chapter 3: Wayne Tower Bruce had a word with Lucius, Tiffany and had a surprise visit from the Special agent. He sadly lost his family friend Lucius. In this chapter, Bruce gets to Lucius Ceremony and consoles Tiffany and meets John (Joker). Bruce tells the truth to Tiffany and has a conversation with John. To know how he confesses and what conversation he had with John, let's start with the walkthrough.
Chapter 4 – Divinity Church Walkthrough
Condolence to Lucius and Gaining Trust of Tiffany: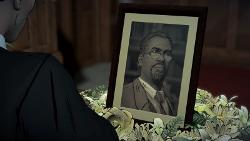 And the story continues from a cut scene, where the screen is black and all the news channels are covering the event as their breaking news. And the screen breathes in with a center dissolve with Lucius picture zoomed in at the center and Bruce standing in front, with a silence around, with below words choices.
I'll look out for your family.
I'll miss you, old friend.
You held us together.
As the gratitude of love, we went for first option and the story continued ahead with the conversation between Bruce and Alfred, the options to answer are:
We can't make it about us.
I'll put him behind bars.
Riddler will suffer.
We went with the first option the conversation continued and Tiffany came into frame. Bruce took a step forward to console Tiffany. And the options you have are:
Anything I can do?
He's in a better place.
I know how you feel.
We went for the third option as we too had been through the same feelings so and the conversation continued, saying all about Lucius on how busy he was working with Bruce, that he dint have quality time with family to which you have below options to reply:
I asked too much of him.
He should've made time.
His work was important.
And we were in guilt so we went for the First option and the story continues while Bruce Consoling Tiffany. She asked Bruce that, "What were you guys working on that could have caused that?" to which the answers are:
Just normal corporate stuff
I'll tell you, just not here.
Its need to know.
We went with the Second option and then Tiffany got mad to know the reason. And asked a question to which the options are:
[Lie] Of course I Didn't.
[Truth] I thought it was Safe.
A Meet with John: Gaining Trail of Riddler's Location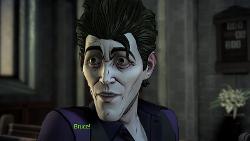 Out here if you want to build a relation with Tiffany then go ahead and tell a lie and if you want to say the truth then move on. We went with being true and from the background you can hear John talking to Tiffany, so headed towards him.
Let's catch up over here.
Don't bother her.
[Pull him away]
Just calm up the situation, we went with First option and started a conversation with John and he suddenly pulls out a get well soon card for Bruce. To which you can reply.
Are you messing with me?
Very thoughtful of you.
That's not appropriate.
Just to thank we went with the Second option and the conversation continued and then Bruce raises a question.
You broke out, didn't you?
That's where you belong.
You don't mean that.
And we opt for the Third option, as the story continues, John ask for a favor that Bruce Owes him, to answer which the options are.
I never made that promise.
I guess I do owe you.
You're crazy.
We opt for the Second option, then the story continues and John asks Bruce to meet his new friends. To which Bruce has option to reply as.
I don't want anything to do with them.
I'd be happy to.
I'm pretty busy.
And just to see what it's all about, we went with the Second option and John becomes happy and wants to take a Selfie. And the options to answer to this are.
[Smile for the camera]
Put that away
If you must.
We went with option 3 just to finish it up quickly. And then John starts talking about Riddler, to which Bruce reacts as how do you know him? Then John also asked the same, the options to reply on it are
I want to take him down.
Stay away from Riddler.
Only from the news.
We are really pissed with that guy so we went with the First option, to which John listened happily and felt good. And while talking John goes way out and says about Riddler to which Bruce says.
You can trust me.
I told you I'd helped you.
Tell me where he is!
Just to gain the trust so that we can have his location we went with the First option and John deploys some information that he tells Bruce and asks him to help him out by finding him. Below are choices for Bruce.
You'll be sorry if you don't.
I'd appreciate that.
Don't get involved.
We want to take out our work smoothly so we went for the Second option and John left as the ceremony got over. As he was leaving Bruce removed the tracking device, you have the below options.
[Risk tracking device]
[Trust him to return]
We wanted to trust him so we did. And then the story continues as John leave. Alfred comes into the frame and has a conversation with Bruce. Bruce tells Alfred that John knew Riddlers location and informs Gordon about it. And there is a cut scene.
Here the Chapter 4 Divinity Church ends, you can read our walkthrough on Chapter 5 GCPD or go through our Batman: The Enemy Within Wiki Guide for more tips and tricks on this game.