Batman Telltale Episode 3 Ending Walkthrough – The Best of Us
At the end of Chapter 4 of Episode 3 – Off the Rails, we had examined the abandoned train depot then fought the Leader of Children of Gotham and finally went to Salina's apartment where Harvey caught Bruce and Salina in their happy time. In this ending walkthrough, we will show you how to Expose Oswald Cobblepot and know the real truth of The Lady Arkham. So without any further ado, let's begin with the ending of Episode 3 of Batman Telltale series.
The Best of Us Walkthrough
Once Harvey leaves Salina's Apartment, Salina will start packing her stuff to run out of this area. Bruce can offer her to stay at Wayne Manor which is finds a dicey situation. Regina will contact you to update about your Resignation speech at Wayne Tower, so Salina will ask you to Reveal Oswald's secret in public so that everyone is well aware of the Penguin taking control of Wayne Enterprise.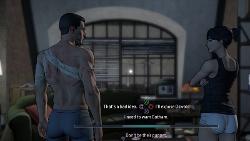 Expose Oswald Cobblepot
During the live press conference, you can either expose Oswald or play by the rules and be announcing the resignation. You will have a choice at either reading the teleprompter or go off script. If you try to expose the Board and Oswald then he will call up for security and ask you to leave the Stage.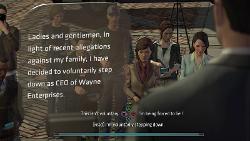 The Lady Arkham
One you get down Vicki Vale will first congratulate you on the speech then stab you with the drug. Then she reveals her true color of she being the Leader of the Children of Gotham, Lady Arkham. Thus completing the Episode 3 and you can check our Batman Telltale Wiki Page to know more about the Batman Guide, Tips, and Tricks, Dialogues, and Results.