Chapter 3: Wayne Tower Walkthrough – Batman: The Enemy Within Episode 1 The Enigma
In Chapter 2: Wayne Manor, Batman was investigating on a mysterious frequency and works with Lucius. In Chapter 3: Wayne Tower, Bruce gets to the Wayne Tower to find out about the Mystery Box with the help of Lucius and The Special Agents Hopes in for a surprise visit. As the Alarm Raises, Bruce has his last conversation with his old friend Lucius, and then there in his Office. [Spoiler Alert]
Chapter 3 – Wayne Tower Walkthrough
After the cut scene while you make you way to the office, Regina gets hold of you and start talking about GCPD and asks what is in the bag, the option to answer are:
[Lie] Tax Papers.
None of your business.
Something for Lucius.
We went ahead in selecting the 3rd option and entered the Office and started a conversation with Lucius, while talking about the box.
Amazing introduction to Tiffany: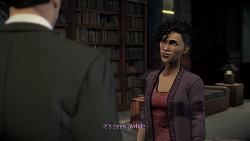 The door opens and a small drone comes in and this is an introduction of Tiffany. While she explains to Bruce regarding the drone you have 3 options to answer:
Not when it's aimed at my head.
This is great! Thanks.
Pushing for a raise?
We appreciate for the hard work that she has done so we opt to thank her by choosing option 2 and she gets her way to disc and starts asking question to which the options, to answer are:
One of your dad's projects.
It's about your clearance.
Pretty cool, huh?
Just tried to push the name on Lucius, we picked option 1, to which he replies as we are working on and as the story moves on, Tiffany offers to help Bruce. Now you have 3 options to answer:
You should go.
It's too advanced for you.
We could use the help.
As we were in the search for help we accept the help by choosing the 3rd option. As she is about to leave she asks for Alfred. To which the 3 options are:
He's been through some trauma.
He'll be better seeing you.
Same old Alfred.
A Surprise visit from Special Agent Avesta: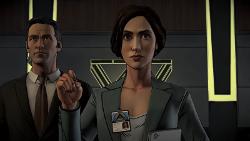 As we care for Alfred we went for 2nd Option and then the story moves ahead and both Bruce and Lucius moves out from the office to go down stairs. As Bruce opens the door, he finds Special Agent Avesta and Blake at the door for a surplice visit. And then Lucius get out from there again having 3 options to answer from.
Let me know what you find.
I'll be right there.
See you later.
We would take option 2 just to be on a safer side. And Agent Avesta starts a conversation stating that she wants ask some questions. And there are 3 options:
Make yourself comfortable.
This isn't a good time.
Am I in trouble?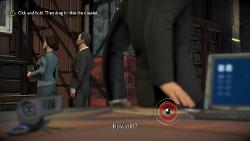 We went for 1st option and as she enters the room Bruce realizes that the file she gave to Batman, is on the desk so to hide the file Right click when you at the table to hide it. Later you will get a call from Lucius, while she is still talking. You have 3 options now:
My family owes a debt to Gotham.
I like the attention.
[Answer phone]
We went for option 1 and the conversation went goes on and again there is a conversation regarding Riddler. Further options are:
Maybe I could help you?
That guy on the news?
That's not my concern.
We have a helping nature so we opt for 1st option and as the story continues there is another question with below options:
No more than anyone else.
I don't like your tone.
I'm an easy target.
And we went for option 3 and as the conversation continuous Agent Blake gets too up close to ask about Joker. And ask the question about your friendship with him. The options are:
John might think so.
Sure, we got along.
Are you kidding?
We went for the 1st option and as the story continues Bruce is been accused to be in a riot with joker to which he replies:
I tried to stop the fight.
I wasn't myself at that time.
You have been misinformed.
Option one seemed a bit more appealing so we went with it. And then Bruce is been charged with a question:
I don't agree to that.
The man's insane.
That's creepy.
Well we tried out the 3rd option out here and as the conversation moves on Bruce is been shown a picture with them.
I've got nothing to hide.
What's your point?
Am I a suspect?
We went for option 1 and as the story moved on Bruce got blamed on being a Criminal to which the answer were:
I'm calling my lawyer.
I'm not a criminal.
Get the hell out.
Death of Lucius:
We went for the second option and suddenly the Alarm raised, Bruce requested the agents to leave and attended the video call from Lucius, having as conversation regarding the mystery box and Lucius telling Bruce to take care of Tiffany, while Bruce has some questions for Lucius.
Tell me what's wrong!
I'll be right there!
Just stay calm.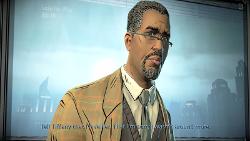 We thought to cool him down so we went with the Third option and Lucius started saying to say sorry to Tiffany, for not being around her and there is a blast at Lucius Office 8:55 AM. Bruce runs to his window to see and there is a cut scene.
Here is the end of Chapter 3, you can read our next walkthrough on Chapter 4 Divinity Church or check our Batman: The Enemy Within Wiki Guide for more tips and tricks on this game.