Birdie Moves List, Unique Attacks, Special Moves and Critical Art in Street Fighter V
Street Fighter V features 16 fighters and all set to fight with the brand new attacks and additional techniques, abilities there are few Skills which are added such as V-Skills, V-Reversals, and V-Triggers. The game also features interactive arena, showcasing special animations when a player is defeated in a certain part of the arena. Here is the complete Data for Birdie and his Attacks.
Birdie – Headbutt Happy Glutton
Birdie introduces himself as the most Rotten villain in the World. He made his entry in Street Fighter series as one of the Top Ten CPU opponents from Street Fighter Alpha and now return to Street Fighter V as a playable character. His fighting style is a little unique as he mixes brawling with wrestling but includes Bull Head and Bull Horn as his favorite techniques.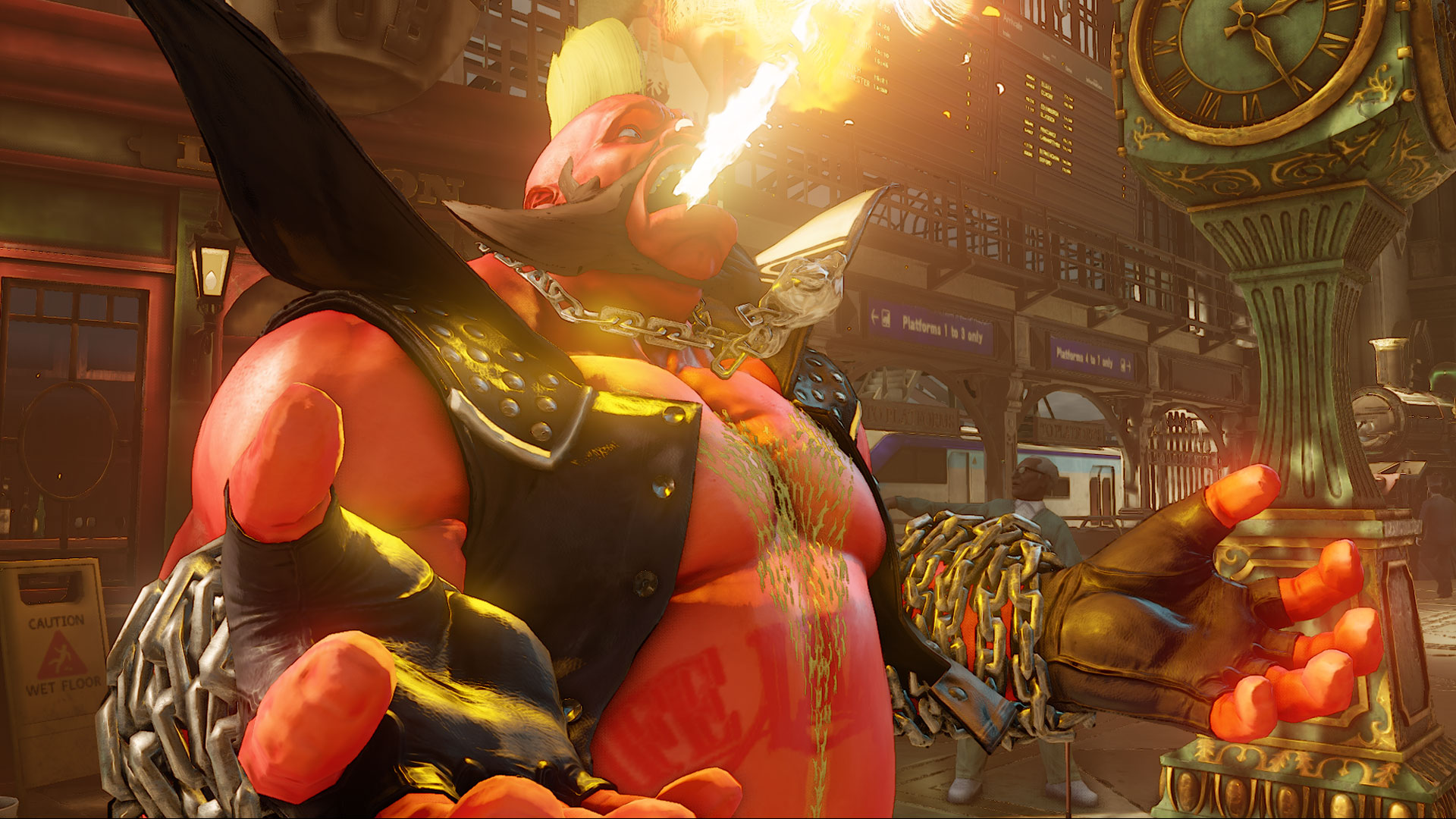 Info Card
Skills: Overheating and Headbutts
Occupation: FreeLoader
Fight Style: Headbutt and Chains

Power: 5/5
Range: 4/5
Health: 5/5
Mobility: 1/5
Technique: 3/5
Moves List
Normal Throws
Bad Skull (When Close to Opponent) – Forward or N + LP LK
Bad Chain (When Close to Opponent) – Backward + LP LK
V-Skill
Break Time – MP + MK
Banana Time – Backward + MP + MK
Drink Time – Down + MP + MK
V-Trigger
V-Reversal
Pepper Pot (During Guard) – Forward + All Punches
Unique Attacks
Bull Drop – Forward + HK
Bull Charge – Forward + HP
Bull Slider – DownRight + HP
Bad Hammer – Down + HP PLAY + HP
Special Moves
Bull Head – Quarter-Right + Punch
Bull Horn – Punch + Kick(Hold to Release)
Hanging Chain

Chain Whirl (Hold Button) – Quarter-Right + Kick
Cancel – Punch(During Chain Whirl)

Killing Head (When Close to Opponent) – Right Down Left + Punch
Bull Revenger – Right Down Left + Kick
Critical Art
Skip To My Chain – Quarter-Right + Quarter-Right + Punch
Legends:
Forward –
Charge Forward –
Backward –
Charge Backward –
All Punches –
All Kicks –
Down Right –
Down Left –
Up Right –
Up Left –
N –
LP –
MP –
HP –
LK –
MK –
HK –
Quarter-Right –
Quarter-DownRight –
Quarter-Left –
PLAY –