Cammy Moves List, Unique Attacks, Special Moves and Critical Art in Street Fighter V
Street Fighter V is now available and with 16 fighters all set to fight with the brand new attacks and additional techniques, abilities there are few Skills which are added such as V-Skills, V-Reversals, and V-Triggers. The game also features interactive arena, showcasing special animations when a player is defeated in a certain part of the arena. Here is the complete Data for Cammy White and her Attacks.
Cammy – Techniques of Incomparable Precision
Cammy White better known as the Killer Bee when she entered in Street Fighter II. She is the second Deadly female in the Street Fighter Universe after Chun-Li. Cammy makes her return in the Street Fighter V as she remembers her encounter with Decapre and others, who angrily attacked her due to her strong hatred.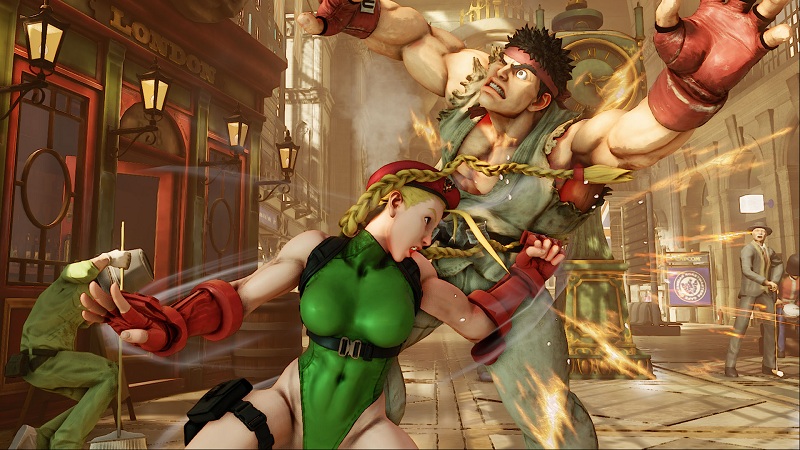 ​
Info Card
Skills: Knife-Throwing
Occupation: Delta Red Operative
Fight Style: None

Power: 3/5
Range: 3/5
Health: 2/5
Mobility: 5/5
Technique: 2/5
Moves List
Normal Throws
Gyro Clipper (When Close to Opponent) – Forward or N + LP LK
Delta Through (When Close to Opponent) – Backward + LP LK
V-Skill
Axel Spin Knuckle – MP + MK
V-Trigger
V-Reversal
Strike Back (During Guard) – Forward + All Kicks
Unique Attacks
Knee Bullet – Forward + HK
Lift Upper – Backward + MP
Lift Combination – Backward + MP PLAY + HK
Special Moves
Spiral Arrow – Quarter-Right + Kick
Cannon Spike – Quarter-DownRight + Kick
Cannon Strike(During Forward Jump) – Quarter-Left + Kick
Hooligan Combination – Half Down Right + Punch
During Hooligan Combination

Lazer Edge Slicer – NO INPUT
Fatal Leg Twister (When Close to Ground) – LP + LK
Cross Scissors Pressure (When Close to Air) – LP + LK
Cannon Strike – Kick
Critical Art
Cross Stinger Assault – Quarter-Right + Quarter-Right + Kick
Legends:
Forward –
Charge Forward –
Backward –
Charge Backward –
All Punches –
All Kicks –
Down Right –
Down Left –
Up Right –
Up Left –
N –
LP –
MP –
HP –
LK –
MK –
HK –
Quarter-Right –
Quarter-DownRight –
Quarter-Left –
PLAY –