Corvo Bianco Vineyard Upgrade Guide – The Witcher 3: Blood and Wine
Corvo Bianco Vineyard is the new location added in the final expansion of the Witcher 3 – Blood and Wine. This abandoned area will be the place where Geralt will Settle down and explore various options like inviting friends, build strategy, plan for the next mission and so on, but you need to unlock and upgrade the Vineyard in order to get the Bonus facility. This Guide will show you how to fully upgrade your Vineyard and unlock the Bonus from it.
How to Get Corvo Bianco Vineyard
Once you start with the DLC main quest 'Beast of Toussaint' Geralt will obtain a deed to Corvo Bianco where you must defeat Shaelmaar and speak with Anna Henrietta. Eventually, Duchess will grant you the key to your new lodging in Toussaint. You will also get a new side quest 'No Place Like Home' where you need to renovate different parts of the estate.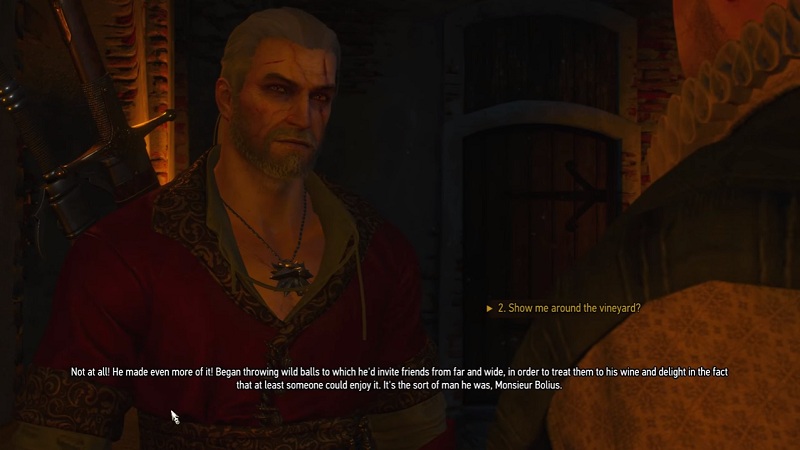 Corvo Bianco Vineyard Upgrades
Now that you have the Corvo Bianco Vineyard you can explore the area and you will find a servant named Majordomo who will help you renovate the estate but in return, you must pay him with crowns. In order to talk about the Vineyard Upgrades, speak with Majordomo and select 'Think we can do some renovation' dialogue option to know about the currently available upgrades.
The First Upgrade(House Renovation) is very costly like 5000 crowns and it will unlock various different upgrades so we recommend unlocking this upgrade first. Every upgrade you make will unlock certain Buffs for Geralt so let's look at the various upgrades, their cost and what Buffs they provide in the Vineyard Renovation.
House Renovation
Buff: Unlocks Weapon, Painting, and Armor stands along with Basement Access
Cost: 5000 Crowns
Time: 3 Days(36Hrs)
Armor Table
Buff: Unlocks Armor Buff
Cost: 1000 Crowns
Time: 2 Days(24Hrs)
Grindstone
Buff: Unlocks Weapon Buff
Cost: 1000 Crowns
Time: 2 Days(24Hrs)
Bookshelf
Buff: Boost your Combat experience(After Reading)
Cost: Free
Time: None
Alchemy Lab
Buff: Adds Charge to Bombs and Oils along with Breaking down of Mutagens
Cost: Free
Time: None
Bed
Buff: Increases Vitality Boost(After Sleeping)
Cost: 1000 Crowns
Time: 2 Days(24Hrs)
Stable
Buff: Increase Roache's Stamina(After Resting)
Cost: 2000 Crowns
Time: 4 Days(48Hrs)
Greenhouse
Buff: Allows you to grow Alchemical Plants
Cost: 2000 Crowns
Time: 4 Days(48Hrs)
Guest Room
Buff: Allows you to Invite you Friends over
Cost: 1000 Crowns
Time: 4 Days(48Hrs)
Additional Weapon and Armor Racks
Buff: More places to Display Weapons and Armor Sets
Cost: 500 Crowns
Time: 2 Days(24Hrs)
If you have explored the Expansion very well then you will find various paintings, trophies, weapons and armors sets which can be used to decorate the Vineyard. Check out our other Blood and Wine Guides to know more about the game.