World 1 All Hidden Coin Locations – Cuphead
Cuphead has got Coins but you won't be having them from the start of the game, unless you complete the Tutorial, you will have 1 coin for it. These coins can be very useful to buy elements from the Shop. In this guide we have mentioned all the Hidden Coins Location in Cuphead World 1 and how to unlock Corner Cutter Achievements as well.
Hidden Coins Location
Where to find Hidden Coin Location 1: Your first coin can be collected by completing the Tutorial, so don't forget to complete the Tutorial.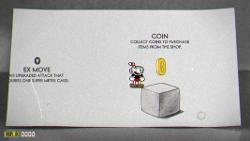 Where to find Hidden Coin Location 2 (Total 3 Coins): After the Tutorial make sure that you talk to Apple standing on the bridge, as you leave from Elder Kettle's house. He will let you have 3 coins, talking about the Old Days.
Corner Cutter Achievement Unlock
From the above Picture get to the North side of the mountain where you will come near a Natural Overpass. And then pass to the other side where the river bends. Here you will have and achievement unlocked "Corner Cutter" for discovering your first Shortcut.
Where to find Hidden Coin Location 3: There is another coin which is been hidden behind the Trees blocked by Axeboy on his left. On speaking to him you will get to know that he is having a hard time handling the Casino Debtors. For this Coin you will have to Deal with all the bosses in this Area. And then get back to him and he will be moved a bit slightly making a way for you so that you can have the coin.
Note: Make sure you talk to other people as well as, they might help you for your problem.
That's all for Cuphead World 1: Coins and Achievement. Stay tuned for more amazing updates on Cuphead. Till then have a look at Cuphead World 2 Walkthrough , it details top tips to defeat all the bosses in the game.
Source: Radnom Pesron from Steam Comuinity