World 3 Hidden Coins Location – Cuphead
Cuphead has got only one coin to be collected from the World 3 and a show to enjoy at the Theater by making your way at the junkyard. So with no further let's start the guide on World 3 Hidden Coins and where to find them in Cuphead.
World 3 Hidden Coins Location
Theater Show Location
In World 3 get to the Junkyard and then make your way under the crane and then walk around and find the way to get to the Theater and then just enjoy the show.
Where to find Hidden Coin Location
At the lower right of the theater, there will be stairs which will lead you down. Get down from the stairs and then get the coin from the marked place in the Picture.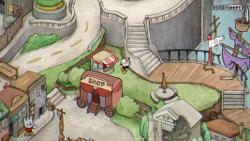 That's all for Cuphead World 3: All Hidden Coins. Stay tuned for more amazing updates on Cuphead. Till then have a look at World 2 All Hidden Coin Locations.
Source: Radnom Pesron from Steam Comuinity