Keyboard/Mouse Controls Layout And Where To Customize It – Assassin's Creed Origins
A lot of PC players are not happy with the Default Keyboard and Mouse Controls Layout fro Assassin's Creed Origins. The good news is that Ubisoft has provided the PC gamers the ability to customize the Keyboard/Mouse Control Layout (or controller layout just in case you are playing the game on PC with a PlayStation 4 controller). In this guide, we are going to show to How To Customize Assassin's Creed Origins PC Keyboard and Mouse Control. So let's start with it without wasting any more time.
How to Customize Keyboard/Mouse Controls
Let's first take a look at the default Keyboard and Mouse controls for Assassin's Creed Origins. There might be a possibility that you like what Ubisoft has offered you in this case and you don't want to make any customisation to it as you are happy with the default Controls setting.
Keyboard and Mouse Default Controls Layout – Assassin's Creed Origins
The image below shows exactly what the key bindings for the keyboard are.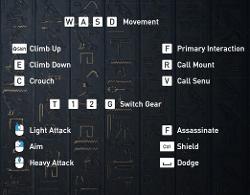 And if you are playing Assassin's Creed Origins with one of the supported controllers then check out the image below it shows default controls layout.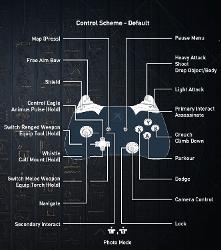 Moving on – if you are not at all happy with what Ubisoft is offering you with Assassin's Creed Origins PC Keyboard and Mouse controls then this is how you can customise it.
Where to Customize Keyboard/Mouse Controls
Step 1: Go to Main Menu and select OPTIONS
Step 2: Select "CONTROLS" tab and then "CUSTOMIZE Controls"
Step 3: A new window will appear (see image below) and this is where you will be able to customize each and every control.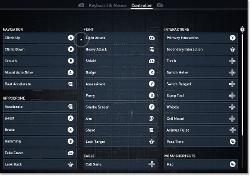 You need to keep two things in mind while customizing the controls – the screen which allows you to customize the controls has an important feature – RED KEY BINDING: It signifies that you may have duplicated a specific control in a way that will make gameplay difficult for you (you may not want to brake and boost at the same time, for example). Secondly, just in case you didn't like the controls that you customize and you want to return back to the default settings – right at the bottom end of the Control Customization screen there is an option to RESET the keyboard/mouse (or controller) layout to its default setting.
Hope you are happy with the details we have provided above on Assassin's Creed Origins PC Keyboard/Mouse Controls And How To Customize It. Do check out our other Assassin's Creed Origins Wiki Page (it is still in the making) for all Main and Side Quests Walkthrough, Tips and Tricks, Collectibles Location, How-to guides, and many other things.