Dark Souls 3: How to Defeat Pontiff Sulyvahn Boss Fight
Pontiff Sulyvahn in Dark Souls III is one of the Boss you will find in Irithyll of the Boreal Valley location. As you climb up to the Castle and enter the Boss Fight Wall you will get inside the Church where Pontiff Sulyvahn is waiting for you. This Boss Fight Guide will show you how to defeat Pontiff Sulyvahn with ease.
Pontiff Sulyvahn Boss Fight
Pontiff Sulyvahn is a Tall Knight with Two Swords, one with Fire and other with Dark Magic. As you enter he will not wait for any of the interaction. He will directly start fighting with his combos so you must be ready with the shield. His attacks include Forwards Fire swipe, Backward Slash with a magic sword and few sweep attacks.
To Defeat him you must be fast enough to get behind him and start slicing him down. Once you Bring his health down to 50% he will call upon his Phantom Clone and while he is calling you have the time to attack to be quick and take out his health. Try to roll and avoid his attacks and take out the Clone first then focus on the Main Boss. It's a bit tricky but the only way to beat him is to be quick and avoid taking hasty decisions.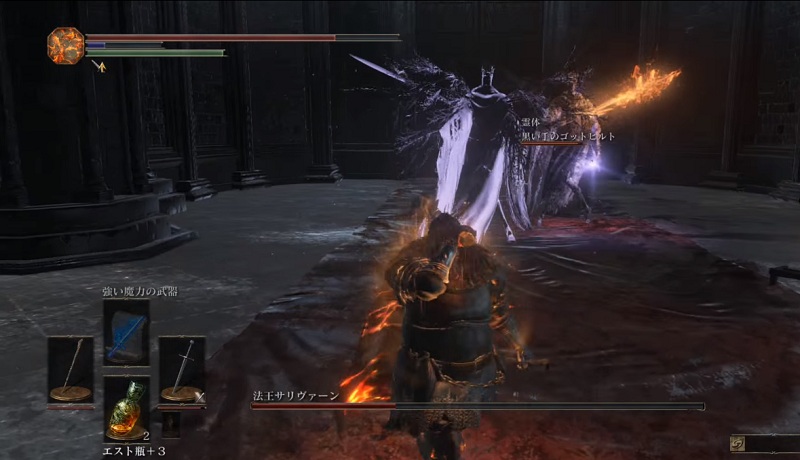 Once the Clone is down you must take out the Main Boss before he tries to call another Phantom Clone. If you manage to take Pontiff Sulyvahn you will get Pontiff Sulyvahn's Soul. Make sure you do visit our Dark Souls 3 Wiki page to know more about the Boss Fights, NPCs and Walkthrough.