Dark Souls 3 Guide: How to Defeat Yhorm the Giant Boss Fight
Yhorm the Giant in Dark Souls 3 is the Boss you will meet behind a Fog Wall in Profaned Capital. You must have seen him in the Trailer launch and he is also the reclusive Lord of the Profaned capital. This Boss Fight Guide will show you how to defeat Yhorm the Giant with ease.
Yhorm the Giant Boss Fight
Yhorm the Giant is one of the Lords of Cinder and he also was known as the King of the Giants. You will find Yhorm in the lower part of the temple in Profaned Capital. Once you get inside you will find Yhorm is resting on his throne and immediately stands as he finds we approaching him. His is more than a Giant and most of the times you won't see his attacks coming.
Yhorm's weakness include the Storm Ruler which can be found near his throne or pickup from Siegward of Catarina. This is a very powerful and legendary sword as you can Charge the sword fully to unleash a powerful wind attack. It is said that once Yhorm the Giant had two of these and one he gave it to humans and other to his friend.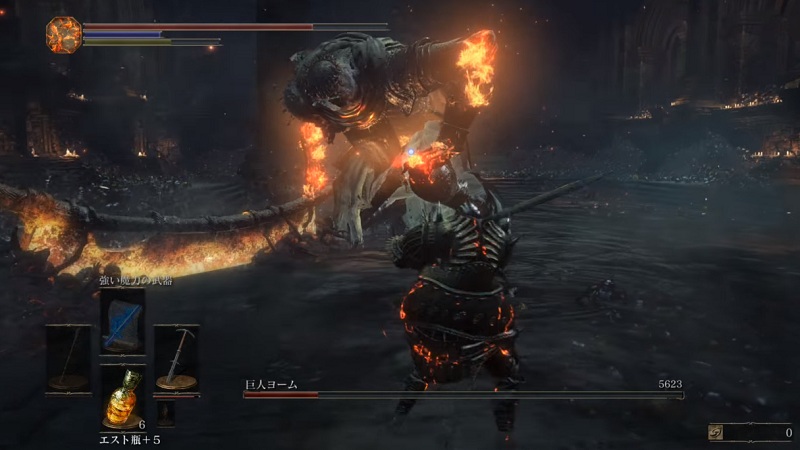 You must get the Sword if you want to defeat him. It will take hardly 5 blows of the Sword to take him down(if you time it correctly) otherwise, you are dead meat under his blade. If you mange to take him down then you will get Soul of Yhorm, Cinder of a Lord. Make sure you do visit our Dark Souls 3 Wiki page to know more about the Boss Fights, NPCs and Walkthrough.