Dhalsim Moves List, Unique Attacks, Special Moves and Critical Art in Street Fighter V
Dhalsim is one of the 16 fighters in Street Fighter V and all set to fight against the brand new attacks and additional techniques, abilities there are few Skills which are added such as V-Skills, V-Reversals, and V-Triggers. The game also features interactive arena, showcasing special animations when a player is defeated in a certain part of the arena. Here is the complete Data for Dhalsim and his Attacks.
Dhalsim – Flame that Lights the Way
Dhalsim is a very famous character throughout the Street Fighter series for his stretchy, lanky body and fire attacks. He has a minimal clothing and necklace of skulls are reminiscent of the Hindu ascetics known as Kapalikas. Dhalsim is aware that if he uses his power to harm, but he tries to remain calm and serene.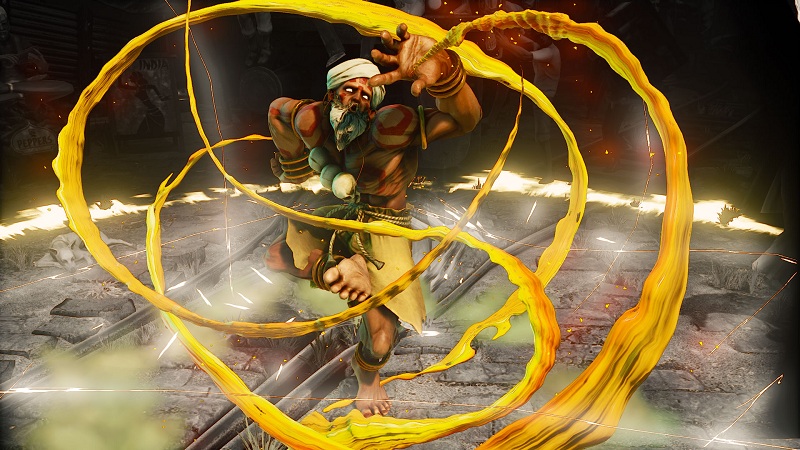 Info Card
Skills: Sermons
Occupation: Ascetic Monk
Fight Style: Esoteric Yoga

Power: 3/5
Range: 5/5
Health: 2/5
Mobility: 1/5
Technique: 3/5
Moves List
Normal Throws
Yoga Rocket – (CLOSE TO OPPONENT) Forward or N + LP LK
Yoga Hoop – (CLOSE TO OPPONENT) Back + LP LK
V-Skill
Yoga Float – Forward or N + MP MK
Yoga Float (airborne) – (DURING JUMP) MP MK
V-Trigger
V-Reversal
Yoga Mala – (DURING GUARD) Forward + All Punches
Unique Attacks
Drill Kick – (DURING JUMP) Down + Kick
Yoga Anvil – Backward + HP
Yoga Upper – Backward + MP
Divine Kick – Backward + MK
Special Moves
Yoga Fire – Quarter-Right + Punch
Yoga Flame – Half Down Left + Punch
Yoga Gale – (DURING VERTICAL OR FORWARD JUMP) Half Down Left + Punch
Yoga Teleport – Quarter-Right or Quarter-Left + All Punches or All Kicks (CAN BE DONE IN AIR)
Critical Art
Yoga Sunburst – Quarter-Right + Quarter-Right + Punch (CAN BE DONE IN AIR)
Legends:
Forward –
Charge Forward –
Backward –
Charge Backward –
All Punches –
All Kicks –
Down Right –
Down Left –
Up Right –
Up Left –
N –
LP –
MP –
HP –
LK –
MK –
HK –
Quarter-Right –
Quarter-DownRight –
Quarter-Left –
PLAY –