Dying Light: The Following DLC Where to find the Arrow Blueprints Location Guide
Dying Light is an open-world first-person survival horror video game and the Following DLC edition will take you to a whole new level. The Player needs to survive from the parkour-fueled zombies and collect all the items such as notes, voicemails, Battle Journals, Blueprints and many more. This Guide will show you all the locations for Arrow Blueprints across the Dying Light: The Following DLC Map.
As we said you need to survive from those creepy zombies, you must equip yourself with good weapons. These includes SMGs, Knifes, Arrows and many more. Here we are going to talk about the Arrows which can be used with the bows and is pretty much long range weapon. If you go out of Arrows then you can easily regain them by pulling them out from the corpses, but what if you need to craft one for yourself? You need a Blueprint and Here is where you will find it.
Where to find the Arrow Blueprints
In order to buy this Blueprint you must first complete the 'Gaining Credence' in story mode/ If you've already complete this part then head straight towards Bilal's Gas Station(near Jasir's Farm). Check the Image below for exact location.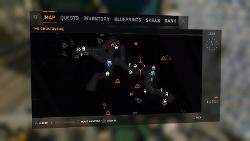 Once you reach near the Gas Station, climb the roof to Interact with the seller. This Guy sells a number of items, crafting materials, weapons, along with Arrow Blueprints which will cost you only $1600.
Once you have the blueprints let's start with crafting one. You need 1 Metal Part and 1 Nail to craft the Arrow. So make sure you buy these as well from the Seller. And your Arrow is ready. Enjoy and do check our other guides for Blueprints and their Locations.