Far Cry Primal Walkthrough Part 9 – Hunting Dah, Welcome Wenja and Dah of Udams
Far Cry Primal Walkthrough Part 9 will show you how to complete the mission the easily. This Walkthrough will show you how to defeat and capture Dah from his Camp and bring him to the Jail. After he being rejected by Wenja you need to hunt him again and ask him to Join your Tribe and help them grow stronger. So without any further ado, let's begin with the Show.
Hunting Dah
Once you reach the marked location you must not evade directly, firstly use the Owl to mark the Udams simultaneously use your Beast to hunt down few of them and then start taking them down one by one.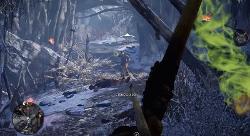 Once you have evaded the Udam's camp Dah's health bar will appear at the center of the screen and this is the time where you must start targeting Dah first. Go to your left and take cover. Be careful of the Poison Berserk bombs while hunting. Once you kill all the Uudams it's just you and Dah. He is very powerful so try to use the range attacks. Once you hunt him down the cutscene will start where you bring him back to your village and keep him under the cage.
Dah of Udams
Once you head back to see and ask Dah for the Berserk bombs, Sayla has already thrown him out of the village as him being the Udam. Your job is to help Dah survive the anger of the Wenja welcoming party.
Rescue Dah
The Wenja people want to kill Dah and celebrate the Welcoming party so head fast and rescue him. You see the Wenja has knocked him down with the weapons and the water is rising fast.
Stop the Rising Water
There is four block which you need to block in order to save Dah from drowning. Head to the Four marked location and place the stone there to stop the leakage and the water. You need to hurry as you will see the water level is increasing very fast and you have only 2 and a half minute to do the fixing.
Talk to Dah
Once you fixed all the water block go ahead talk to Dah and watch the cutscene. Thus finishing the mission and welcoming Dah to Wenja and help Wenja grow strong. After completing the mission go to Dah in the village and upgrade his Hut and he will help you learn Udam Skills.