Flight School – Battlefield 1 Walkthrough Episode 1 Chapter 1
Battlefield 1 Campaign missions will take you on thrilling adventures in several different theaters of war during World War I. In the First Episode, Friends in High Places we will take control of Clyde Blackburn to fly Bristol F2 and learn how to fly, destroy the blimps and ground target. So without any further ado, let's begin with the Chapter 1 – Flight School.
Flight School Walkthrough
The Episode will start with a cutscene where are understand your character Clyde Blackburn who is a Pilot and a Gambler. You meet Wilson and pretend to be George Rackham in order to gain access to Fly Bristol F2. So let's get started with the tutorial with aircraft controls.
Pursue Allied Aircraft
Wilson will guide you with the control along with the screen hints. First, you need to tail the Friendly Aircraft ahead marked in blue(on map). Keep following him until the bar gets full. Now you need to tail the same aircraft when he takes sharp turns and low flying. Make sure you learn fast and be good at controlling the Bristol F2.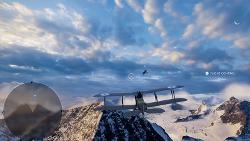 Destroy all Target Blimps
Wilson will now ask you to test your aims by destroying the Blimps. To clear it at once, start shooting blimps from right to left. There are 5 Blimps in total and easy to take them down even if you miss them at the first time. Turn your aircraft if you miss the first chance, all you need to do is get used to the controls.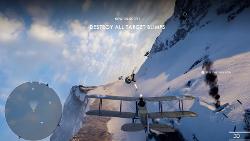 Destroy the ground targets
After the Blimps, Wilson will ask you to destroy the ground targets. The ground target is nothing but half destroyed aircraft. You need to use the rockets to destroy them completely. Switch your weapon and zoom to aim perfectly and climb a little before engaging the ground and avoid the crash.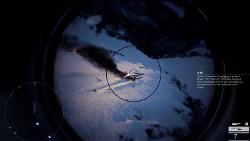 Destroy all enemy fighters
Soon after destroying the blimps and ground targets, you will see German Aircraft flying towards you so get ready to take them down. Being your first encounter with the enemy planes this will be easy so use all the trick that you're practiced – tail your enemy, switch your weapon and zoom to aim perfectly. There will be another wave of the enemy aircraft, so take them down as well.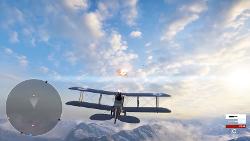 Repair Aircraft
Finally, learn how to repair your aircraft and then watch the cutscene. Thus completing the first chapter of Episode 1. You can either continue to the next Chapter 2 – Total War or check our Battlefield 1 Wiki to know more about the game walkthrough, collectibles and much more.