For Honor: Walkthrough, Tips and Tricks, How-To and more
For Honor's story mode is divided into three parts, Chapter 1 Knights, Chapter 2 Viking and finally Chapter 3 Samurai. They have sub-parts that will teach you all the game controls and battle statistics, later you can apply this on a multiplayer or quick match. The wiki guide has ample of tips and information associated with the game, a full walkthrough follows below for each mission and their sub-missions.
You can choose the difficulty level in the chapter itself, the first one is usually an intro kind of mission to teach you the controls. Also, each level offers you the in-game currency that can be later used in upgrades. Also below are the controls that matter a lot in the game and you will learn this in the first mission. still, I am adding this separately for reference.
Xbox One Controls: Below is the controls you can try out while playing below, refer the image below for more details.
Locking on Targets:
LT (Left Trigger) – To lock on the target in Guard Mode. Quick RELEASE and then HOLD to select the enemy.
Guard Mode:
LT (Left Trigger) + RS (Right Stick) – Select the direction of attacks and blocks.
Blocking:
LT (Left Trigger) + RS (Right Stick) – Use the same for matching with the direction of the attack.
Attacking:
RS (Right Stick) + RT (Right Trigger) – For heavy attack if the enemy is not guarding.
LT + RT – Continues Heavy attack against the enemy.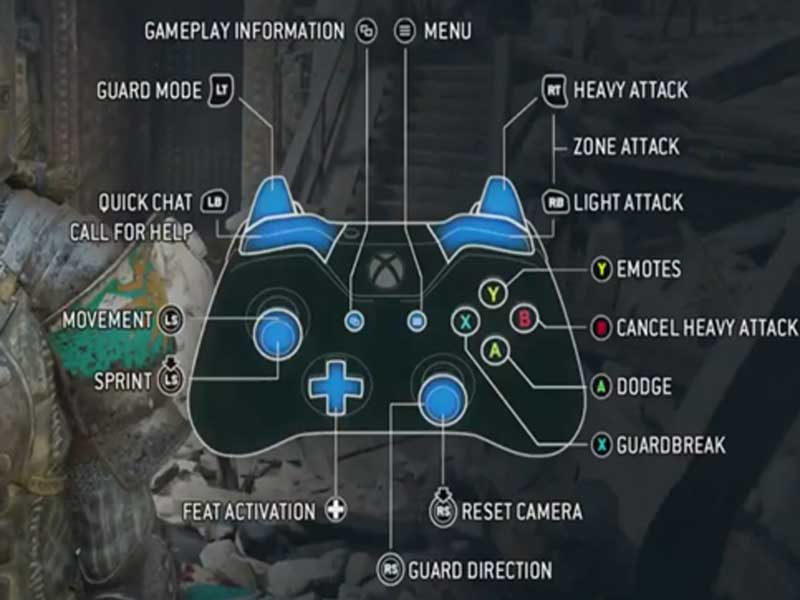 Beginners Tips for battle:
Block or Guard to refill stamina.
Use Throw on the enemy with low stamina for knocking them out.
Completing a successful Execution will heal you.
When your revenge meter is full you can use it by hitting Y for high damage.
Learn to block attack direction, but this done work well with powerful enemies.
Dodging costs stamina, do it whenever required and move backward to gain some.
For Honor Xbox One Story Mode Walkthrough:
Chapter 1 – Knights: The story of a warden to be a part of Blackstone Legion and finds that they are not fighting for the peace.
Chapter 2 – Vikings: Play as a Raider from the Viking clan to fight and battle for the great raid on samurai's imperial land.
Chapter 3 – Samurai: Play as a Orochi, a samurai who is on mission to unite the clan and finally defeating the enemy who is the cause of war.
For Honor Error Guides:
For Honor PC Error: Fix For Blocked by EasyAntiCheat, Error 006000043, 0004000008, Change Language And More
For Honor Collectibles Guide:
For Honor Tips and Tricks